The real joy of life is always in helping the needy ones, and that's a fact! While working in a firm in Mumbai, a 25-year old girl namely Upasana Makati discovered a rare innovation for the visually impaired people i.e. the discovery of India's first ever Lifestyle magazine in English language, written in the Braille in order to make the blind ones discover more of this world!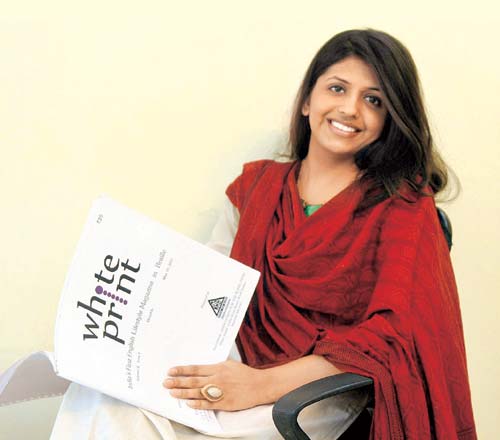 Upsana is a former media student who fulfilled her dream of helping out the needy in a unique way by developing White Print, India's first lifestyle magazine which is built in Braille. Upsana graduated BMM from Jai Hind College, Mumbai, moved to Canada for further studies and came back to Mumbai to work with a public relations agency.
Easier said than done, a startup doesn't rise without obstructions and the same faced Upsana. She was often told by her family and friends to work as an employee and continue earning a good amount to enjoy life, but this wasn't the way she wanted to live.
As per Upsana, doing a regular job didn't gave her a peaceful sleep, what did, was White Print. However, there are still some issues faced by White Print and the major of them is funding. White Print' is not a charity venture and thus, doesn't run donations. The launch of White Print was just about the opening of new avenues for the advertising world too.
Currently, over 300 copies and printed and sold of White Print every month. The magazine is circulated all around India and is constantly aiming at improving and increasing magazine's followers. Here's what Upsana has to say, regarding her dreams and aims for White Print:
"Our biggest success is when we get subscribers from the smallest of villages in India. There are numerous people who send us messages, calls and letters telling us how it's an important part of their routine. A girl from a small village in north India read the entire edition in a day and already called me asking when she could get to read the next. It is certainly the most satisfying feeling when we hear such wonderful things from our readers."
Watch out this eye-watering video that will force you show your full support towards White Print: