Yes guys, you read it right! There is a website that can help you get a perfect 360 view of any place in any city in India! That place includes your house, your office, a railway station, an airport and almost EVERYTHING!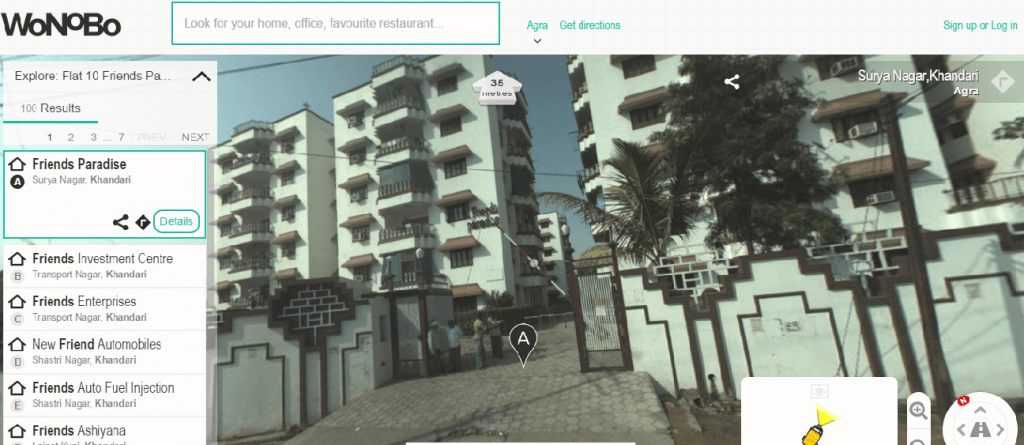 Wonobo is an online Google Maps alternative, created by a duet of Indian brothers which helps its's users get a perfect view of any place they want to see. In an online survey, which I had 3 days ago, I discovered the wonders of Internet where I found Wonobo and found it worth being shared over my blog.
So here's how it works!
Another remarkable thing I noticed about Wonobo was that it automatically traces the Indian city in which you live using the IP information registered. For e.g. as soon as I visited Wonobo.com, it redirected to Wonobo Agra which I felt to be quite unique!
So as you'll visit Wonobo.com, you have to enter the address of the place you want to see in the Search bar. P.S. You have to enter the exact address to get the perfect desired picture. That's it! And you'll get an extremely sharp and clear image of the desired destination.
Also, if you want to proceed the camera a bit more, then Wonobo does that for you too i.e. just by clicking in the direction you want the camera to proceed, it'll move forward. COOL, isn't it?
And the best part I felt about it was the sorry message: 'Sorry, but it seems that our cameraman has slept :P.' But the shocking thing is that…not even a DAMN know about it! 😮 I just hope this post helps Wonobo boost it's reputation!