Okk…as long as you read the first two words of the title, here I'm showcasing a keyboard. A wireless, bluetooth connectivity keyboard, but, the plot begins with the final 3 words…'Made Of Wood'. That eventually sounded a BIG nuisance to me when I ended up on the official site but upon digging up a bit more over it I realized, it's seriously good.
I really don't know how we're gonna speak it but yes, it's written as 'Orée.' Phew, now lemme first learn how to properly speak it! So this company basically looks upon crafting out techs in a way, which won't sink in to our bones easily. (Wanna check out their awesomeness, go, head on to www.oreeartisans.com)

They've got a workshop in Southern France, they use the finest materials to built up their products, they do things obscure, and, they're too good at what they do. But this certainly isn't a promotional post about Orée, but to tell you, that wood, can make up a damn good keyboard too.
So this is the board…Ohh Mah Gawdd…was probably what I said when I saw it for the first time. A cool finish, digging into it's features, so it has Bluetooh 3.0, is 400 grams thick, supports your Mac and Windows PC both, comes with a 2x AA Batteries, which can last for 5 months…if used daily. I wonder how many exclamations marks I should add up after that statement. What else you need apart from that!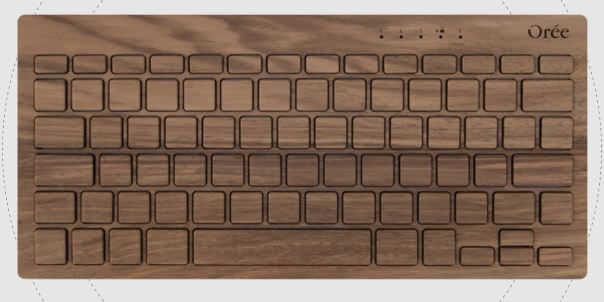 This is what it looks like! Just super cute! The keys don't make much of sound, are as smooth as of the laptop's keyboard which you're using to read this post. They say it 'handcrafted from single piece of solid premium wood,' maybe true!
The keyboard has got two basic materials…the first one, maple wood, which gives a light colored cheesy finish and the second one is the Walnut, as brown as walnut or probably light coffee beans. If at all you want to show off something that is made of wood, then I'd recommend you to go on with the dark-finish walnut color, for it really looks like wood (and it's not that the maple one isn't made of wood)


But wait…if you've got way too hyped about it, the main question is, What's the price tag? So to start off, the Oree Wooden keyboard are priced at €150, which, if converted, are about Rs. 11,800 plus the shipping charges. Also, add-ons to the keyboard like a leather pouch or a trackpad or Bluetooth dongle will add up €35 or €50 to the allocated price tag. That being said, it's not a 'THAT REASONABLE' deal but yes, this thing seems too good.
If at all you wanna purchase it, then you can head on to oreeartisans.com and get your deal. O wait, I just forgot to tell you another thing! This wooden edition keyboard also has a romance edition which worth €200. Nothing extraordinary in this though, there are certain red keys in a irregular pattern, as far as I think with the same old goodies of extra charge!
So I hope you guys enjoy it, and even I did writing this up. Drop out any queries which you may have or your views in the comments below! 🙂