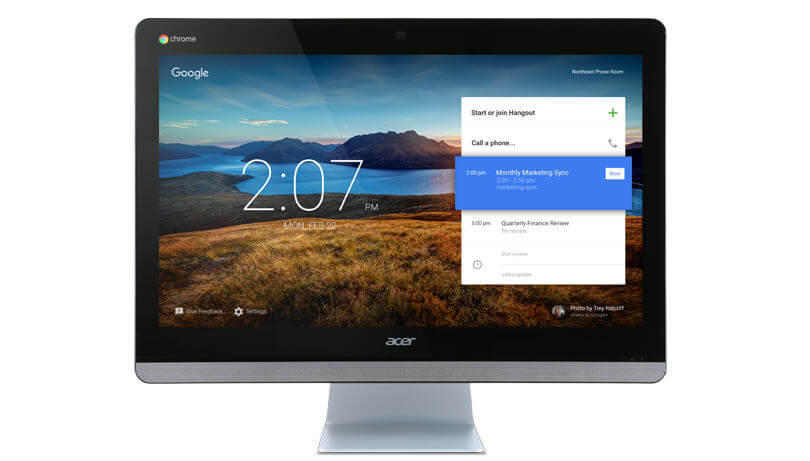 Search Engine giant Google and Taiwanese tech giant Acer have together brought about something in collaboration, and it's a WIDE, HUGE, and till date the 'seems-to-be' most promising Chromebase desktop computer ever, LIKE EVER!
It's called 'ChromeBase for meetings,' which is a damn 24-inch big desktop which will be used for the Video Conferences of Google. The device has got a massive, like HUGE 24-inch full HD (1080p) touchscreen display, high-definition conferencing camera, four microphones and two stereo speakers, well, set up for better Video conferences.
And the price tag, is…a bit high (it's $799!), which, if converted, amounts to nearly Rs. 52,800, that's a damn huge amount! Acer claims that this device is till date, the biggest, of all running on Chrome OS, definitely man, 24-inches!! A reason why Chromebooks have been a favorite for long is because, well, they're easy to use, they have got certain protective utilities from Virus, and their battery, it's just superb!
This thing, is the second by Google under the Video conference industry, the first one, as far as I remember, was launched in 2014. The Chromebase connects to Google Hangout meetings that can support up to 25 participants, and is said to be available in countries like Canada, Britain, Australia, etc. and other big markets can expect it landing in soon!
Now this thing, definitely sounds to be a dope tech, and we just can't judge it until we have an official clue or look over it, BUT, the price tag is high, but definitely, sounds to be a reasonable deal for rich officials, if you know what I mean!