Hello guys and welcome you all to the first ever session of SenseBIN Expert Chat with probloggers and online marketers. Today, as we kick start off, I would like to present a very special guest before you all!
Today, in this expert chat session, we're having Adam Connell from BloggingWizard.com. Adam is the founder of BloggingWizard.com, who've contributed to and been quoted by some fantastic sites like Huffington Post, CIO.com, Search Engine Journal, KISSmetrics, Crazy Egg, Boost Blog Traffic and more.
So, are you guys excited??? Let us all go deep into this awesome interview!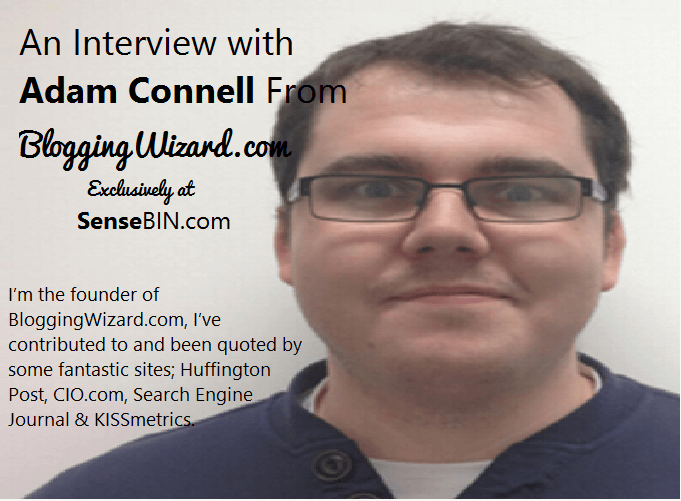 Me: Hello Adam sir and It is a pleasure to have you as the first guest at Sense Bin Interview series. Can you please introduce yourself to our readers?
Adam: Hi Divyansh, thanks for the invite.
Quick intro: I'm the founder of BloggingWizard.com, I've contributed to and been quoted by some fantastic sites; Huffington Post, CIO.com, Search Engine Journal, KISSmetrics, Crazy Egg, Boost Blog Traffic and more.
I used to manage a marketing agency before leaving to spend 100% of my time on personal projects.
Me: As everybody knows, you are one of the most prominent bloggers in the blogosphere. How did you get started?
Adam: It may sound strange but I never intended to start blogging.
Back when I was at college, I started running a none-profit record label. I wanted to help promote music I was producing at the time as well as helping to promote music that my friends were creating.
I built 2 versions of the site in Dreamweaver and it was slow going, so I found WordPress to be an easy alternative.
Eventually I used the blogging element of WordPress to announce new releases and keep listeners updated on what was going on.
2 years later I had released over 60 albums and promoted around 40+ artists from all over the world. And we had racked up over 300,000 downloads.
To date we have had around 2.5 million downloads.
The success with this site, coupled with an inspiring music business lecturer that I met at University propelled me into the blogosphere. I was hooked and I still am.
Me: Tell us something about your online life, your previous and upcoming projects in blogging and affiliate marketing?
Adam: I've got a lot planned for Blogging Wizard.
Back when I first started the blog, I was running a marketing agency so my time was limited. Now I have a lot more time available so I'm looking to focus that time and effort into products and additional training.
Recently I launched WP Superstars to help simplify WordPress for those who are just getting started. It was a good fit considering my experience with building sites in WordPress.
After talking to a lot of bloggers over the last few years, It's clear there are a lot of bloggers doing freelance work. A lot of them are my readers so I'm looking to launch a job site for bloggers early next year.
I have more planned, but it's very early days yet.
Me: BloggingWizard.com is one of the blogs people use to get started with blogging. Tell us the story of this great revolution.
Adam: Blogging Wizard was very different in the early days. I was using it more to share what was working for my team at the agency I was running.
As time went on I shifted my focus back to blogging and redefined my target audience. As I slowly began to free up time from my day job I was able to start spending longer creating content.
That meant more detailed and complete resources.
Some recent ones include:
The evolution of Blogging Wizard will continue – exciting times are ahead!
Me: Any special Black hat or White Hat techniques of your own?
Adam: I generally steer clear of black/grey hat tactics.
My focus is now on link earning rather than link building. I do guest post, but I guest post to build my email list and increase my base of readers rather than to get links.
Guest posting can work great for gaining email subscribers, just link to a landing page with a free download in your author bio and you'll notice a steady increase in subscribers.
It does depend which sites you publish on though – sites with more engagement will get you better results.
Ultimately people will link to awesome and unique blog posts. Posts that solve a problem in a way that no others do tend to do well.
Me: What income sources do you use to make money from your blog?
Adam: Most of my income comes from affiliate marketing at the moment. I also do some occasional consulting/freelance work but that's very rare.
I'll be adding my own products to the mix shortly.
Me: Any special or secret SEO and keyword researching tools?
Adam: There are no secret tools, and I don't use too many SEO tools any more. There are some helpful tools that other bloggers may find useful though:
SEMrush – I use this tool to tell me what keywords my competitors are ranking for and which position they are at. I also get estimated traffic statistics and have the option to track my websites rankings, check keyword difficulty and more.
BuzzSumo – I use this tool to tell me which blog posts/topics are getting the most social shares. I can also search by domain and find influencers.
Me: As the whole world is just mad behind the superb Landing page of your website (including me!). Tell us how you added such an awesome ingredient in your blog?
Adam: It's easier than you might think.
I use LeadPages to create landing pages. They have 70+ templates and it's VERY easy to customize them.
The downside is that you can't customize much of the landing pages. But the fact they host landing pages and handle digital asset delivery makes up for it.
Me: Can you deliver some of the best List Building techniques you use for BloggingWizard.
Adam: There are a few basic steps to take first:
Make it easy for people to subscribe – Add opt-in forms in key locations on your blog.
Give people a reason to subscribe – Offering free updates means you will get highly targeted subscribers but you won't see decent numbers unless your blog is an industry authority. Try offering a relevant (and exclusive) free download.
Relevance is an important factor too, it's important that what you are offering your readers is relevant to what they want to learn while they're looking around your blog.
Using Hellobar to add targeted notification bars works well – Hellobar will allow you to add a call to action or opt-in form above your content. You can customize the text and create different notification bars which only appear on certain posts.
You can take this a step further by using content upgrades within your blog posts.
The content upgrade works by offering a post specific bonus. It could be a PDF version of a post that readers have to opt-in to receive, or it could be additional learning materials.
Me: Since everyone knows that you are a pro blogger. What are the basic steps aspiring bloggers should take in order to become a 'PRO'?
Adam: Before anything else you have to have the passion to learn and help people within your niche.
Then consider the following:
Evaluate your niche – if you want to make money you need to consider whether it's actually possible.
Have a strategic plan and understand your goals – you need to set your goals but more importantly, you need to have a plan for how you can achieve them before you get started.
Competitor research – find out what your competitors are doing right, what they're doing wrong and figure out how to create a blog that fills in all the gaps.
Influencer research – there are people in your niche (and related niches) that have access to your target audience. Find out who these influencers are and plan a strategy to leverage their influence. Also consider how to create a mutually beneficial relationship with these influencers.
A strategy to grow your email list – you need a plan for building your email list and you need to get started straight away. Too many people say "I don't need to build an email list yet". The earlier you start the better. Waiting just causes missed opportunities.
Engage your audience – keep your focus on your audience, they are the reason your blog exists and they'll be the ones that you will turn into advocates who will spread the word.
Promote each post extensively – clicking publish is not enough and it never was. Promote each of your posts, not just once but several times (maybe more).
There are no guarantees in this world, but when you take the right action and put in enough effort, opportunities will present themselves and you will find yourself climbing the ladder towards success.
Me: Most of the bloggers quit just because they are not able to generate money out of their blogs and they also start losing interest in it. What were the things you kept in mind when you were a newbie?
Adam: The main thing I considered when I started my blog was how passionate I was about the topic. I knew that if I couldn't see myself being interested in my niche for the next 5-10 years then I needed to pick something else.
Earning potential is another factor too, my niche was fairly competitive but I could see it was possible to earn money.
Other niches are quite different. Some niches are beyond competitive, they're saturated. Although in those situations it just means you need to be more creative with your content strategy.
Me: A lot of bloggers are facing issues with Google's Panda update. What can bloggers do to keep safe and avoid Google's Panda update?
Adam: In order to future proof your blog from Panda you need to consider what is important to Google.
They are all about user experience – if sites listed in their search engine provide a poor experience, people will be more likely to go to Bing or another search engine.
So consider the following:
Grammar
Duplicate content
Page load times
Over optimized on-page SEO
Thin content
One of the main problems I see is thin content. Just focusing on posting more detailed content that people enjoy makes a huge difference.
Me: How can one maintain a proper blogging schedule?
Adam: A decent calendar (something like Google Calendar would work) along with self-discipline makes a huge difference.
It's also important to map out a detailed content plan to help you keep on track.
Start off by blocking out enough time in your calendar so you can complete blog posts without putting yourself under too much pressure.
You don't have to publish every day; you just have to publish great content on a consistent basis. Publish content as often as your audience can consume it.
Me: How do you use Social Media to get Traffic to your blog? Any special technique?
Adam: It all starts with the content.
I mention influencers in my content and let them know that I've said awesome stuff about them via Twitter and Google+.
They usually share it. This is because by sharing the post with their audience; they are increasing how popular their followers perceive them to be.
Me: If I will ask you to describe your blogging journey within 100 words, what would be your answer?
Adam: In under 2 years I've gone from managing a marketing agency to creating a popular blog and becoming recognized as an industry expert. I've also built my own business to the point where I was able to leave my job and live my life by my own rules. And I'm only just getting started.
Me: Any advice or trick to rank our blogs well in Search Engines?
Adam: My advice would be: don't try and trick search engines. You could get very far using traditional tactics that Google frowns upon, but you wouldn't be doing yourself any favors.
Using what works now or previously is all well and good but recovering is hard work, most of the time you have to put in a lot of time and wait for a refresh of Google's algorithm.
You'll be waiting a long time.
So focus on creating a great blog with engaging content. Give search engines what they want and while the process is slower (and more expensive), it will be worthwhile in the long run.