Bang Bang Movie Review is a Bollywood action film based on one of Hollywood's biggest hits, Knight and Day. The film was directed by renowned Bollywood director, Siddharth Anand under the Production of Fox Star Studios.
Bang Bang Movie Review
As the trailer shows it off, the movie is based on the robbery of a Kohinoor diamond stolen by Rajveer Nanda (Hritik Roshan) who was earlier described as a mentally unsalable man who is, further on accompanied by Harleen (Katrina Kaif).
As the name suggests, 'Bang Bang', the film was full of ear-splitting noises. Though it didn't stand up on the expectations of its fans, the film was quite a package of action, love, little bit comedy and yes, its thrilling suspence.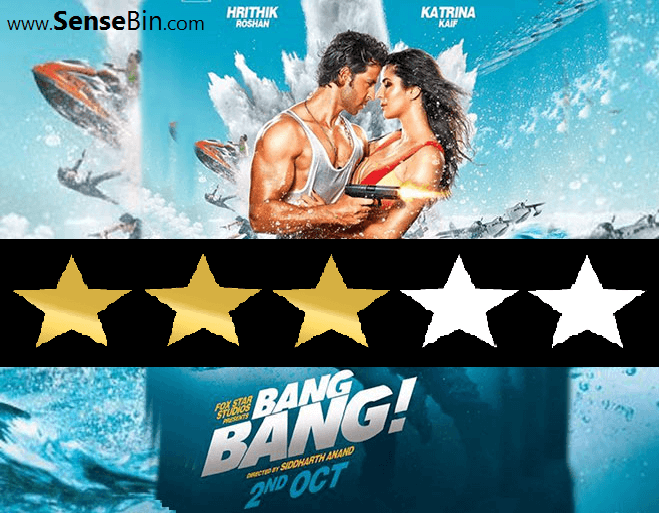 Bang Bang Movie Cast
Hrithik Roshan
Katrina Kaif
Danny Denzongpa
Jaaved Jaffrey
Pawan Malhotra
Jimmy Shergill
Kanwaljit Singh
Deepti Naval
Bang Bang Movie Story
The story for Bang Bang was the same as all the other action and robbery films. The story begins as Rajveer Nanda steals the Kohinoor Diamond and later on meets Harleen, a sweet, simple girl who gets sucked into this globetrotting adventure with him and helps Rajveer keep the robbery a secret or I can term it as 'MEHFOOS' :p!
Just wait for some time, go to the Book My Show official app and book your seats today for Bang Bang as we would not unveil the full story because we don't want to spoil your thrilling experience with the action pack movie! J
My views for Bang Bang
To be honest, I loved the presentation of the movie and the final suspense too! However the movie didn't completely stand up on their audience's expectations, I would recommend you to give it, at least, one watch.
Siddharth Anand deserves at least this much for the movie!
Talking about the acting, we're going to see Hritik Roshan in a very similar role as compared to his rest of the movies and again, Katrina Kaif was acting the same, BELOW AVERAGE!
However, the film was not as good as Siddharth Anand's rest directions such as Tara Rum Pum or Anjaana Anjaani.
The film is weighed down by a teary familial back-story, and a twist that anyone who's watched even three masala potboilers can predict from a mile away.
Pros and Cons for Bang Bang
Pros: The film was more beautified by its melodious and suspicious songs and by the delightful and natural (as always) performance of Hritik Roshan. The screenplay, story and direction for the movie were also good (however, some more twists and turns in the movie would have taken it to the grand level, the one where Haider is there today).
SenseBin.com Rankings for Bang Bang
I can simply give the movie:
3/5 stars
A good and suspenseful movie but not as good as we always expect from Hritik Roshan but still, he did it up to his fullest! Bang Bang Movie Review