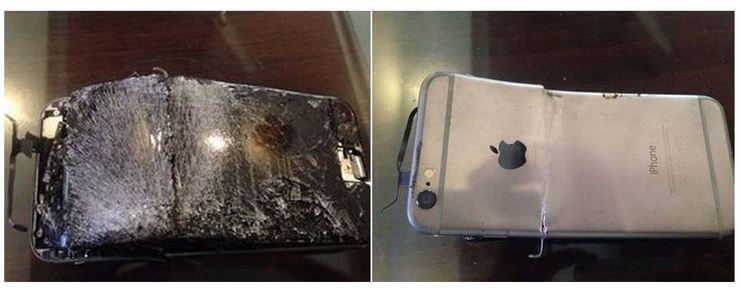 Kishan Yadav, a Gurgaon based restaurateur filed an FIR at the Sushant Lok Police Station on Tuesday that his iPhone device caught fire and exploded suddenly when he was talking to one of his friends, says reports.
"My face could have got burned as the phone exploded in a matter of seconds. When I threw the phone, the call was on and the battery was around 70 percent," Yadav told the publication.
Luckily, the user escaped from harm's away as he wasn't using his hands while driving. While driving, he was talking to his friend and suddenly he noticed a spark in his smartphone. It was a 64GB iPhone 6 Grey version and he threw it out immediately as he felt the fire.
The phone was just a week old, and after this shocking incident, he immediately filed a complaint against the tech giant and asked officials to take swift actions. A few months back, another user from Long Island, United States reportedly his complaint about his iPhone when his flagship burnt in his pocket only, which gave him third-degree burns.
Mr. Yadav said that he bought the iPhone 6 from a leading smartphone showroom in his locality; Galleria market for Rs. 60,000 on 18th of June and after 5 days only, this incident happened. The iPhone 5, iPhone 5C and even the iPhone 4 have reportedly caught fire often giving users third-degree burns.
All I have to say now to Apple and it's manufacturing units, building faith amongst people isn't easy at all and once they loose faith in you, you can't rebuild it!