It has been really quite long since I've shared any success story or an interview with any of the online experts as today we've got Pradeep Kumar from the Slashsquare network, under which he's got numerous startups and online marketing blogs such as HBB (Hell Bound Bloggers), DeviceBAR, MoviesDrop and many others! So, let's gear up for something GOLD!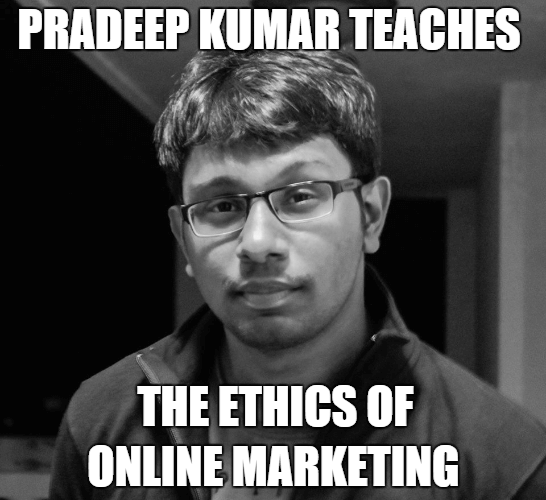 1. Firstly tell us about yourself.
Hi, this is S.Pradeep Kumar, I'm a ProBlogger and Movie Freak. I run a blog network called "Slashsquare". I have been blogging for the past few years, and this field is something that grabs your passion and turns into words. I'm an Engineering Graduate, sadly. 😛
2. Who was your Inspiration as a Blogger?
When I started Blogging, I looked at all the bloggers as experts and pro people, but later I realized only some were genuine. But amongst them, I found a passionate guy called Arun Basil Lal from MillionClues, he was/is a passionate blogger, got inspired from his blog to make mine professionally.
3. When and How did you start Blogging?
It was during my school days I guess, I saw Google's Blogger platform and it was really nice to have a website/blog those days as well. I was a very funny blogger, copying stuffs from Wikipedia and stuffs, I wrote about actresses, politics, blah blah, I don't know why, but I thought Blogging was all about sharing stuffs. Later I realized a blog is not just a space on web, but a tool which can teach something to people, help them learn something. Rest is history.
4. From where did you get topics to write on your blog?
I usually look at other blogs. 😛 I mean not the content they have already written, but the content they missed. Content that is valuable and useful but still missing. That could grab attention and attraction.
5. What according to you is the best Blogging Strategy?
Consider Blogging as a Race. At one point, you will see that your blogging is performing well, but the hard truth is, you have tonnes of blogs completing with you front and back. The point is not to win the race, this is a kind of race which never ends, it just gets interesting day by day. All you need to do is to entertain your audience and grab their attention. When you do that, no matter what happens to you in the race, they will still remember you.
6. How do you select writers for your blog?
Like my old friend tipped, hire a passionate writer, then you can dispose 100s of just-interested people. You need to find a passionate writer, who wants to make the readers read and give feedback/comment. When I started to blog professionally, I find it hard to make my blog special, make my identity special, I'm just a drop of water in an ocean. I waited for months to get a good comment on my blog posts. Every time I used to check the spam comments and wish those appreciation were real, but alas, they are still SPAM. You need to find a writer who can understands the audience and makes the blog posts tempting.
7. Any advice for Newbie Bloggers like me?
Being a newbie blogger is also an advantage. You are fresh and you haven't done any big mistake. Try to provide valuable content and never mislead readers. The point is not to win the race, but to entertain the audience.
Wrapping up
So here was I and Pradeep Kumar, teaching you the most ethical ways of online success! Do drop your views or queries for Mr. Kumar if you have any through the comment box. He'll answer!