You guys might have used Amazon for, either, buying products, or earning some money affiliating them. Well, my guide today is for the affiliate guy out there and there's one thing I can ay for sure, not more of you guys are known to this guide.
One of the biggest policies in order to achieve success in affiliate marketing is to apply professional-looking links, not the elongated ones. Well, through this guide, you can achieve a url like: amzn.to/PRODUCTNAME
How to Create Custom URLs For Amazon Product Pages
Similar to my most common how-to guides in this one too, you need not have programming or HTML knowledge. Following a few steps can help you achieve a custom short URL for amazon products.
Open Bit.ly in a new tab and sign in there using your Facebook or Twitter account. In the blank, you use to shorten a link, post your affiliate link. As you enter the button 'shorten it', you'll be redirected to the page where you will achieve your custom Amazon link, with a random suffix, i.e. http://amzn.to/1D72oXS.

Well, in order to make them look more professional, you can change the suffix as per your wish using the 'Customize link' option.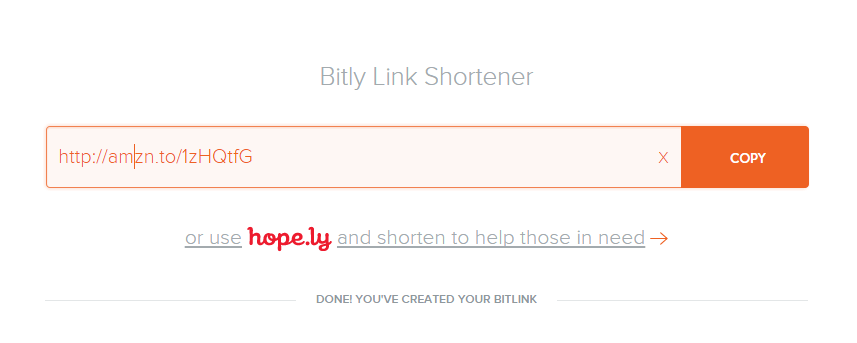 The custom suffix you will use for your custom Amazon short link will firstly wander the whole of Bitly system, and if somebody else has reserved the URL from that particular keyword, then you won't be able to set that suffix.
Not only Amazon, but there are many more websites whose extended URLs can be shortened in a custom format like:
Facebook (fb.me)
BBC (bbc.in)
New York Post (nypo.st)
The Wall Street Journal (wsj.com)
Also, when talking about this, you should keep one thing in mind, i.e. the ASIN code, which is given to every product on Amazon.in. In order to create a shorter link more quickly, you can simply add the ASIN code over amzn.com and your link will be created. For e.g. http://amzn.to/1zHQtfG