Drishyam is an extremely thriller, suspense attempt of putting Ajay Devgan in a role we haven't seen him ever and the attempt was super-successful. The film is inspired and remade from the Malayalam 'Drishyam' starring Mohanlal and unlike the most common remakes, Drishyam stood out of he crowd and impressed the audience like anything!
The film starred bollywood's 'Singham' Ajay Devgan who played the role of Vijay, a 4th-standard fail man who lives a simple life but encounters a huge problem as his daughter, by mistake, kills Sam, the son of the IC Meera Deshmukh, who was played by Tabu. Tabu knows that Vijay is the culprit but they don't have any evidence against him. And it always seemed that now it may be the time Vijay is caught, but suspences last till the end.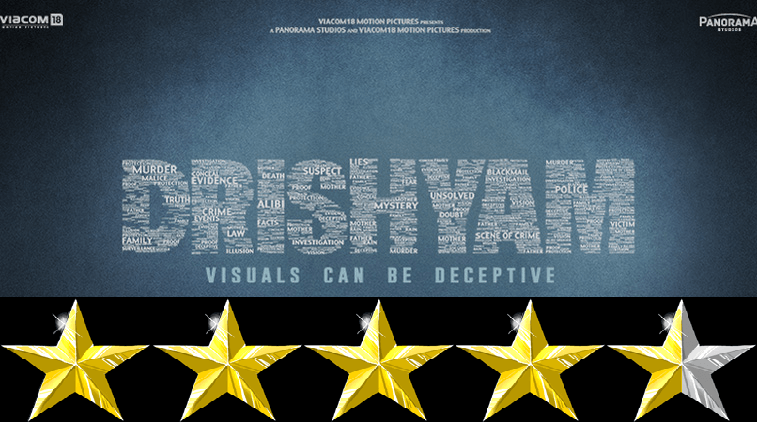 Mostly, the remakes of Tamil and Malayalam films are total shit, but they earn a lot of money. But the case is absolutely opposite with Drishyam. The film didn't come up well at the box office, but all those who watched the film, were highly impressed by it. The direction wasn't that good, simplicity reflected in each and every scene, frankly speaking, there wasn't even a moment when I was thinking, 'Yeh kya hai???'
Final Verdict
Speaking truly, Drishyam was an all-time entertainer. A great film that deserves appreciation, collection and awards in different functions. But it surely would be difficult for it to earn at the box office because Ajay Devgan has got to compete the 'Bhai's' Bajrangi Bhaijaan, which has been one of the top grossers of 2015.
My ratings
Well, I'm gonna rate this film with 4.5 starts out of 5. A must-watch, at least once!