Guys, is it possible? Can something like that ever happen? I mean, how can a man rise from the death and that too caused by the Ebola virus. Shocking, isn't it?
Well, the recent reports have clarified it that a Liberian who was believed to die due to the cause of Ebola virus rose from death
According to ABC News, a community leader in Monrovia said he was trying to get help for the man for days but when he said the man was dead, the burial team arrived in an hour. It is not the first time such a news have come but every time, people thought it as their imagination for some promotional rumors but the recent footage by the ABC Good Morning America have proven it all to be a truth!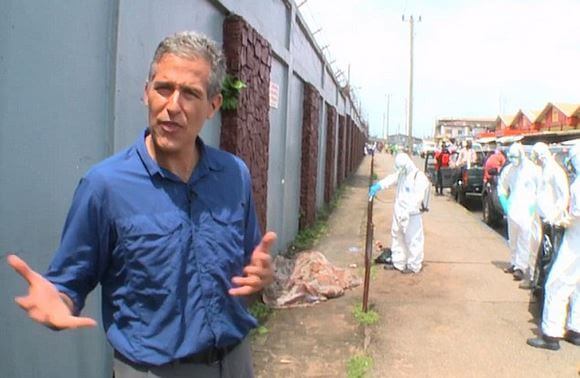 A group of local Liberians filmed the complete scene while the officials were taking the dead man (who eventually arose) to the crematorium. The film is going viral all over the world very fast, giving people a glimpse of the poor conditions, West America is getting trapped into!
As you all know, there's been many rumors stating about "zombies" that come back from death due to the hazardous Ebola virus in West Africa and if you all don't believe, go to the last week's New Dawn publication where they posted a story about 2 men rising from death caused due to Ebola.
However, some stories also say that the victims get alive, when they are not dead but very seriously ill due to the virus. Though, people are just linking Ebola with Zombie Apocalypse on various Social Media websites.
Dr Richard Besser, ABC's Chief doctor, who's currently working in Liberia to find the solution to this deadly problem stated that:
"Monrovia is currently a city where if you die from Ebola, they are very quick for you. If you're living and you need help, there's really nowhere to go."
The officials who were taking the man to the crematorium gave their statement that they asked for the help for the man from many hospitals but the ultimate result was 'IGNORANCE'. As they were wrapping the man, one of them yelled 'He's alive' and within no time, the crowd was doubled in the area. Soon, the people saw the victim moving one of his arms, proving that he rose from death after being caught by the Ebola virus.
https://www.youtube.com/watch?v=L7x27mRLH4A
As the news went viral across the area, the people were doubled and the current situations for the man is that the man is alive, but is taken somewhere else and nobody knows the meaning of that 'SOMEWHERE'.
So guys, what do you think? Is it another faking news to create another buzz among the natives or people are actually turning into zombies. To know more of it, stay tuned to SenseBin!