Now it has been quite a while since I've shared something over this blog…anything, any interviews, any inspirational story, nothing! But the wait it over. Guess what, SBIS is back with it's 13th Session. Today, your host is talking to Fabrizio Van Marciano, one of the most dynamic models in the online business.
Fabrizio is the owner of www.Magnet4Blogging.net, which is an online portal where Fabrizio shares magnetic and "actually-working" blogging strategies. He has been in this online business for 3 years, making a hell of passive income online over the years. I've been greatly inspired by Fabrizio's work and he'll for sure prove an inspiration to you too! So let's just begin!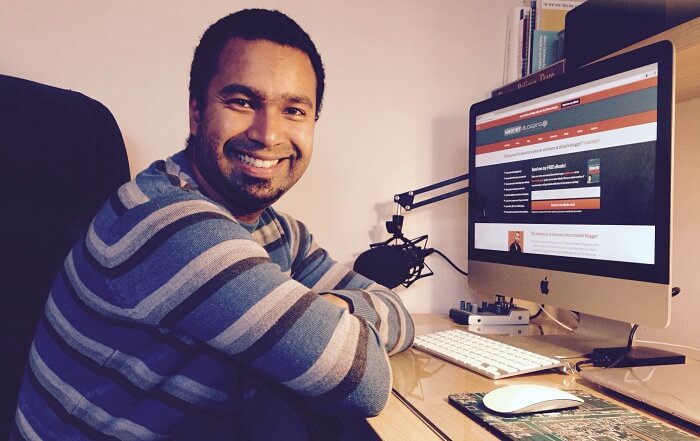 Q.1 Hello Fabrizio sir, and welcome to SBIS. First of all, let us begin with a short introduction!
Hi everyone I'm Fabrizio Van Marciano and I'm a web designer, graphic designer, digital marketer and professional blogger from England.
Q.2 For how long have you been in this online business?
I've been doing business online since 2006. I started my first online business selling artwork and digital canvas prints. I continued to do this until 2009 when I discovered blogging. In 2010 I started my first blog Magnet4Marketing where I talked about online business, inbound marketing, email marketing and social media.
As well as having my main blog over at Magnet4Marketing, I also started a small handful of blogs in a variety of niches, which eventually all fizzled out. In 2013 I started all over again with a brand new blog and new focus, I currently blog over at Magnet4Blogging where I've continued to build a business from blogging.
Q.3 How did you earn the first penny ever online?
I made my first income online in 2006 selling a piece of artwork through my website. But I guess I earned my first real income from blogging in 2011. I was hooked on the idea that I could earn money passively without the need to do any real physical work, and so I focused on learning and applying affiliate marketing strategies and techniques into my blogging business.
Q.4 What was the worst and the best experience you've had in your online career?
There has been many highs and lows, but I think the worst experience I've had running a business online was when I hired a virtual assistant to help with the admin side of my business. She turned out to be a dishonest person whereby she fictitiously made up statistics to send to my clients, mainly potential advertisers. This caused some problems for me at the time, so that was a bad expereince because it almost tarnished my online credibility.
Advice to anyone wanting to hire a virtual assistant, make sure you do your homework by researching the person or company first.
The best experience I've had was definitely when I earned my first $1k in a single month from affiliate marketing. It made me realise the earning potential of passive income, and it really inspired me to want to make more money from affiliate marketing.
Q.5 What is your take on Affiliate Marketing?
To me affiliate marketing is still the best way to monetise a blog or website, or to simply earn money online full stop. I love offering web design and graphic design services via my blog to generate income, but nothing beats making money online passively on autopilot through affiliate marketing.
I see a lot of new bloggers and marketers coming up, many of them doing affiliate marketing for the first time, and doing it completely wrong. And then they wonder why they're not making any money from their efforts.
To make money through affiliate marketing you first have to build an audience. You have to win the respect and loyalty of that audience as well. Content marketing, creating exceptional value and helping people find solutions to their problems consistently, and using all the online tools and content mediums available, is amongst the best ways to get results from affiliate marketing.
Q.6 Do you think that videos are the future of content creation?
Absolutely, yes, yes, yes! We've seen YouTube explode over the recent years with more marketers getting involved in doing video marketing. Videos are popular also on Facebook, and talking of Facebook, the company are on the brink of rolling out their Live Stream feature to more of it's users. We've also seen the monumental growth in popularity of Periscope.
In 2016 I predict that video will be at the forefront of content marketing, and I for one will be making sure I get a piece of the action. I can't think of a more personal and intimate way of connecting with your audience and growing online relationships other than to use video medium.
Q.7 If you'd ever get a chance to meet one of your favorite online businessmen, who would it be?
That's a very good question. If there was one person I'd like to meet and have a chat with it would probably be Neil Patel. I would love to know how he manages to find the time and resource to create those epic monster blog posts he puts out over on his blog and on QuickSprout.
Q.8 Let's say you've got $1,000. How are you gonna invest it to multiply your online earnings?
If I had $1,000 I would probably invest most of it in training and skill development, and some of it on the tools required to increase my bottom line. I truly believe that learning and applying is the best monetary investment anyone can make to grow their online business.
Q.9 If I'd give to 10 seconds to memorize your favorite quote, what would it be?
"Try not to be a man of success, but a man of value!" That's my all time favourite quote and one which I carry everyday in thought, when I'm serving my online community.
Q.10 Whom would you like to answer all these questions?
Probably Harsh Agrawal from ShoutMeLoud.
Q.11 Fill in the blanks:
Whenever I'm bored, either I do "some reading and learn something new" or "head down the beach to catch some waves"
Q.12 Any last minute tips for the readers?
Yes, stay focused on your goals. I know it's so easy to get distracted especially in a world filled with so many distractions. But the only way you can move forward in your online business or with your blog, is if you train yourself to stay focused consistently on what you have to do. All the rest will follow.