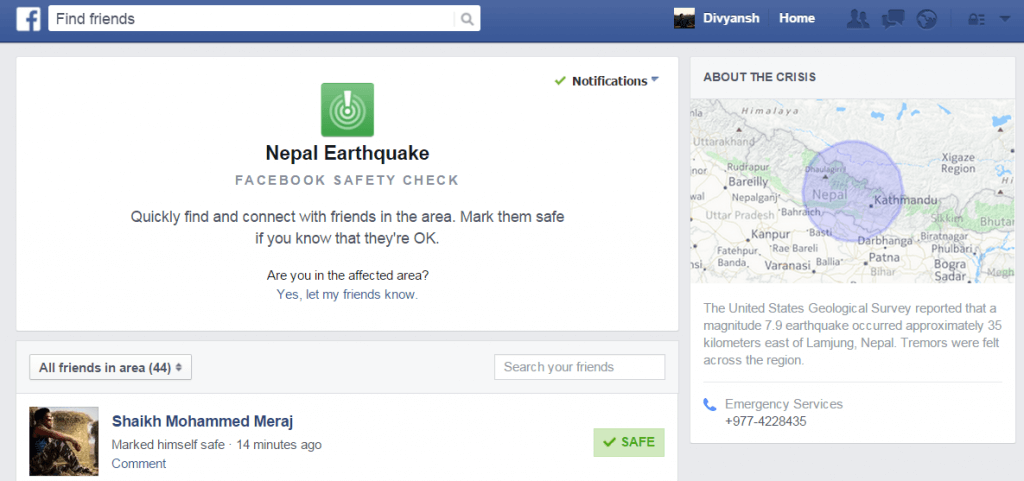 Yesterday was not just another common day for the Nepal people as they witnessed the worst earthquake ever in the last 80 years, which caused the life of over 1,400 people and thousands of injured people. The earthquake landed not only in Nepal but some other North Indian cities like Agra, Delhi, Varanasi, an many more.
Keeping this devastating incident in mind, Facebook re-designed or re-functioned their safety check tool for the survivors of the recent quake. Facebook activated a special feature that aims to keep people informed of the security of their friends and family in the affected area.
Here's what Mark Zuckerberg had to say about this new activation:
The change was first made viral on the internet as one woman tweeted of the number of Facebook friends she saved through this tool. Since then this new change have gained lot of support, helping more and more survivors!
Facebook launched the tool, which was inspired by the 2011 earthquake and tsunami in Japan, last October, according to a blog post from the social network. It was a byproduct of Facebook's disaster message board.
Facebook Safety Check's desktop application also provides a brief synopsis of the disaster and a phone number for emergency services.