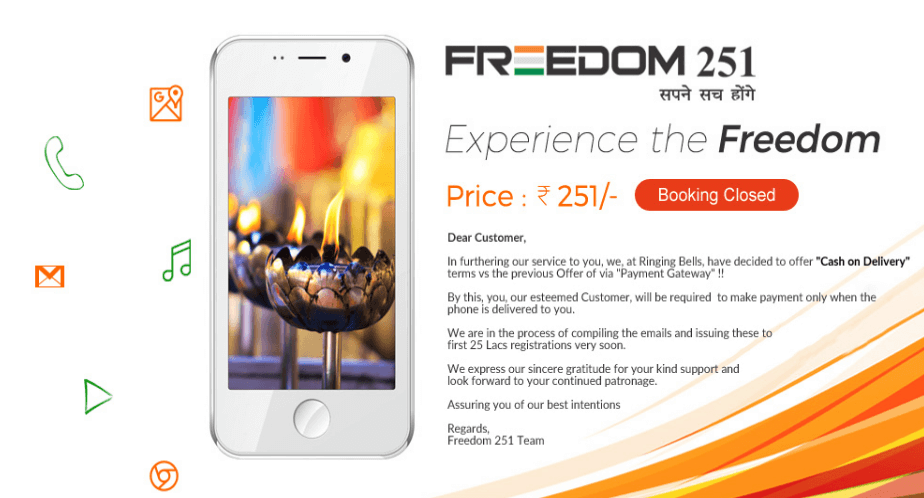 About a few months ago, a smartphone, quite really one, named Freedom 251 came in our lives, which made all of us wake 5:45 in the morning, open up our laptops and stuck on it's page to order it, and why not, it worth just Rs. 251, and from that very day we had people jabbing that it's a scam, even I believe it, but Ringing Bells' (the company) latest statement makes us think about it once more.
"We will start shipment of Freedom251 from June 28 to customers who paid for it earlier on COD (cash-on-delivery) basis," said Mohit Goel, Director – Ringing Bells. The very first few hours, and they received more than 30,000 orders for Freedom 251, after which they stopped taking orders and their official website crashed. Long after that Ringing Bells didn't have a word. They disappeared, making us sure in our opinions that it's a fraud.
After sometime they gave a statement that they'll soon start shipping the phones and the money is safe with them. Then they disappeared again, and now, are back in news. So now the question is, is Ringing Bells a fraud, a scam anymore?
We still have a few weeks for 28th of June and till then we cannot have a final verdict on it. We have had a lot of allegations put up on Ringing Bells and after all that they've been trying to convince us with full force that they are totally legit.
I, honestly have 2 freedom 251 phones booked, and this statement pumped me up because I wanted the iPhone clone in my hand for long. But a smartphone, so cheap, and almost 30,000 orders, it still doesn't seem legit?!