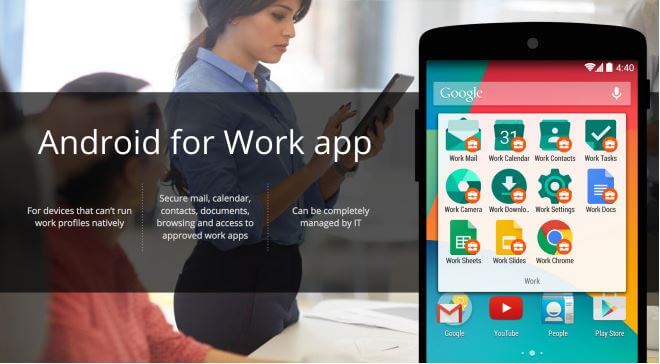 Android is, no doubt, the most widely used Operating System today, but the major problem faced by its numerous users is that, it is not meant for business purposes. It cannot provide the security and management a business' information requires, but don't worry guys, because Google has come up with a solution to this too!
Following the latest announcement from Google's official blog, the company had rolled out their new Initiative namely 'Android For Work' which will help Android users keep work-related accounts and app info completely separate from their personal information.
This new Initiative allows businessmen create different profiles for their business issues. As per Google's official announcement, this initiative is rolled out by a group of technicians which will help official people keep their work affairs more secretive.
Here are the major features of this new launch:
Built-in productivity tools – In order to keep a track of the latest business happenings, this app comes with some built-in business utilities for email, contacts and calendar, which supports both Exchange and Notes.

Android for Work app – For devices running Ice Cream Sandwich through Kitkat, or that don't run work profiles natively, Google has designed the 'Android for Work app'. The app, which delivers secure mail, calendar, contacts, documents, browsing and access to approved work apps, can be completely managed by IT.

Google Play for Work – Google Play for Work allows businesses to securely deploy and manage apps across all users running Android for Work, simplifying the process of distributing apps to employees and ensuring that IT approves every deployed app.
Teaming up with a huge number of technicians, promoters and programmers, the company is expecting to get the best out of their new launch i.e. by providing business officials flexibility and proper security so that the official proceedings can become much easier.