Seriously, I mean I wasn't able to believe the moment I saw it. Today, I experienced an update from Google (don't expect that of Penguin or Panda, huh!) I actually don't know whether I am the first one to experience it or it is something common, but Google seems to celebrate the festivals of December in his own style.
Today, as I was surfing the internet, I got to know about a new festival namely Kwanzaa. It is a festival celebrated by the USA and African communities from 26th December to 1st January. Since it is not a known festival, I tended to research upon it and as I typed the keyword 'KWANZAA' on the Google search bar, I saw a glass and bottle on the left side whereas a bunch of lighting candles on the right side! The candles seemed to be a GIF image as they continued burning till I closed the window.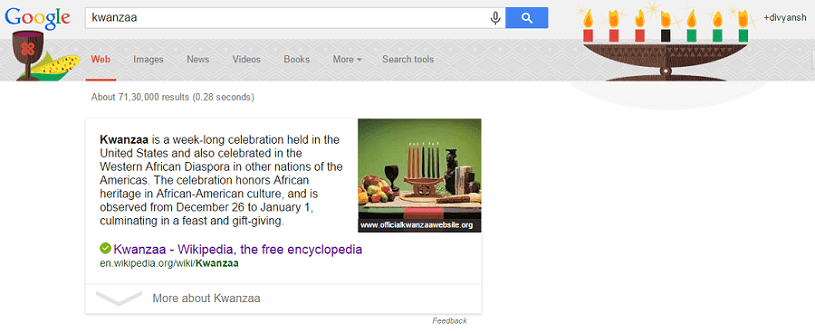 As I saw it, I thought this decoration is for December, as Christmas and New Year are coming closer. So just for that sake, I typed on 'CHRISTMAS' and here's what I saw:

A bunch of Christmas trees surrounding the area around the search bar.
Though, I am not sharing anything specifically through this post, I just wanted you guys to know the unique style of Google of celebrating the festivals. And yes, Happy Monday guys!