Google recently announced to roll out two important changes in it's Search Optimization era, following what Google has stated that mobile-friendly websites will likely get much better rankings than the ordinary ones. This significant change rolled out keeping the fact in mind that Internet usage through mobile devices is increasing day-by-day. This important ranking factor will roll out from April 21st.
It will rank mobile apps participating in App Indexing for signed-in users better in the mobile search results starting today. Google announced that mobile-friendly websites will launch better in search engines and more relevant app content will show up for signed-in users in search results.
This huge leap by Google will greatly change the format of searches through mobiles, and will leave out a significant impact over the worldwide searches. Google said that this is just an attempt to promote its mobile ranking demotion, launched back in 2013.
Generally, Google doesn't make such statements but when they're so confident and that it is official, the major reason for this roll out is the improvement in Google Mobile search.
Google said "users will find it easier to get relevant, high quality search results that are optimized for their devices."
So if you're site isn't Mobile-Friendly, take some ACTION now…make them mobile friendly! If you're confused whether your website is Mobile Friendly or not, you can take the free Mobile-Friendly Test from Google Webmaster. As you can see in the screenshot below, SenseBin.com is mobile-friendly, and if your site is also, you'll to get a similar screenshot!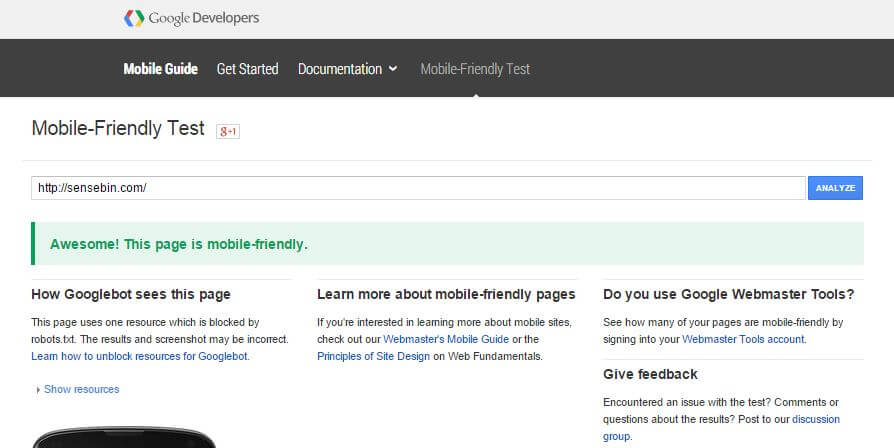 So let's all wait and watch what this new update is gonna bring for us. Whether it'll work out as heaven or hell!