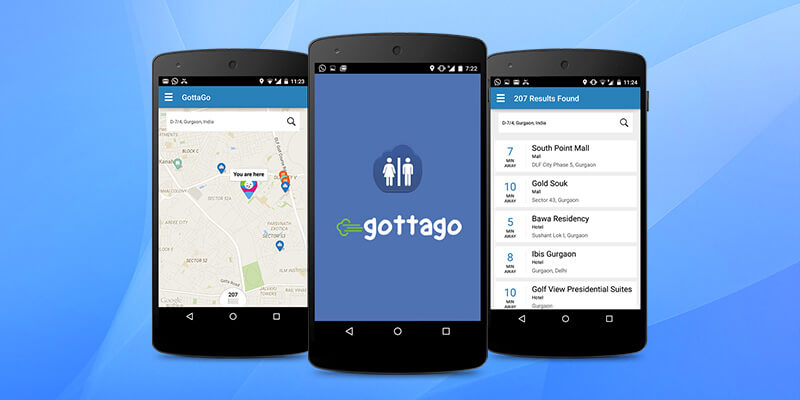 Nowadays, apps working on the principle of location finders have become a normal thing now-a-days, but the GottaGo App is something exceptional! This app locates where you are outdoors and finds the closest restroom near you within a minute, so that you can answer nature calls easily! COOL, isn't it?
The app not only spots the restrooms near you, but also tells you the way you have to go. Different places detected by this app are allocated with different symbols that helps to categorize the restaurants, railway stations, etc. found. All you gotta do to utilize it's features is download it, open it, select your location, and a list of public restrooms will appear on your screen out of which you can select any to relieve yourself.
"We started a website that listed information of restrooms, area-wise on a website called p911.in back in 2010. With the smartphone medium, the experience got better with detecting the location of the user using GPS and then directing the user through navigation that they are already familiar with," said GottaGo app's founder Kunal Sheth.
"With the growing risk of infectious diseases such as urinary tract infection or other infections, we wanted to only list the cleanest options available. We had a few evangelists in every city go and check out these places before we listed them. We also built user feedback into the app, which allows users to rate the options provided once they use the facility. They can also let us know if a restroom isn't working any more or is shutdown," continues Kunal.
The app, which has mapped 10,000 restrooms across Mumbai, Pune, Delhi NCR, Bangalore, Chennai is currently available on the Google Play Store and will soon be available on the Apple App Store.
Here are some remarkable features of this fabulous invention:
Ranking by users and the expert team.
1000's of toilets listed and geo-located, with address and direction guide.
Malls, Hospitals, Hotels, Restaurants, Railway Stations, Museums all mapped.
Displaying nearby toilets in a list or on the map
So next time you go outside and when a nature's call strike suddenly, you have this app downloaded in your phone so that there isn't a BIG issue! 😛