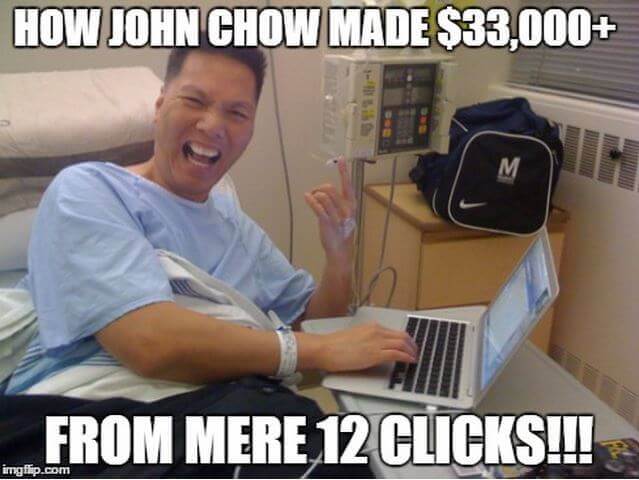 Now that's something what I call I.M.P.O.S.S.I.B.L.E!
Nah! Don't end up with such landmark statements in your mind only by reading the post title. Don't know how many of you are gonna still believe me, but here I'll be telling you how mere 4 sales and 12 clicks fetched John Chow a million dollar happiness!
Obviously, in your consideration, cracking sales of $33k is applying endless traffic generation strategies and ranking sales pages all over the Search Engines like a mad dog! But, something else worked out for John, and it's results were out of expectations (did you expect this).
How John Chow made $33,000+ from 4 sales & 12 clicks
A few days ago, John Chow uploaded a video where he shared his real-time sales track on this Laptop that had sales of over $33,000. Though this number seems to be a common thing for such a renowned marketing personality, his click-throughs and sales left my mouth-opened, and I'm sure your's also!
From John's point-of-view, there are two major ways bloggers can give a boost to their earnings. Either by increasing their traffic statistics, or by making some specialised tweaks in their usual traffic. Most of the bloggers consider increasing their traffic (the harder way) to increase their earnings rather than making some changes in their regular sales page. Suppose, you are making $500 a month driving 50,000 visits, then 150,000 visits will fetch you $1,500. Usual logic!
You know why bloggers aren't actually able to fetch more money? Because they go after low-priced items which, on selling, will give you nearly nothing! And here's where John Chow stands out of the crowd. He went after big-ticket sales!
Taking another example, if you want to earn $10,000 a month making sales of varied products, would you like to sell 1000 copies of a CRAP $10 eBook or will you promote a $200 expert coaching. Obviously, selling 5 sessions of a coaching is far more easy than selling 1,000 book copies.
I agree that promoting a high-ticket $200 coaching session is 10x harder than selling a cheap $10 eBook. Lot of sensible promotion and perfectionism is required to reach to the honest buyers of such high-ticket products. But once achieved an experience in selling such expensive products, you'll witness unexpected effect over your sales track!
As I told, it costs a lot to make even 1 sale of any of such expensive products. You gotta approach to each and every buyer personally, often explaining him the brief analysis of the product either by a mobile chat, hangouts, or Skype. And in order to earn sales, I'm sure you're all ready for it, but here too, John stood out of the crowd, since he appointed someone else to do this job for him, so that he could continue his 'dot com laptop lifestyle'.
Selling a high-ticket product: The effective way
The best strategy I think is applicable for selling expensive products and that is,
Creating a product of your own: And this is what actually works the best. The best way of giving any product the personal touch is to create a product of your own. However, if you are inexperienced and haven't created any expensive product yet, this won't be a good idea at all! And the second thing is…
However, if you cannot create a product of your own, you can simply promote them too!
So, what was John Chow's sales track:
A $8250 product x only 4 sales = $33,000!!!
Wrapping it up
Dear Mr Chow, all I would say is, 'Kudos, you did something none of us ever expected!'
I hope this effective and rare strategy of generating easy sales of high-pitched products work out for my friends too, so that the people who've made their minds that generating sales isn't their piece of cake may buck up some profits too!
So if the promotion of high-ticket products isn't still clear to you, I'm always here to clear all of your doubts, I'd love to!