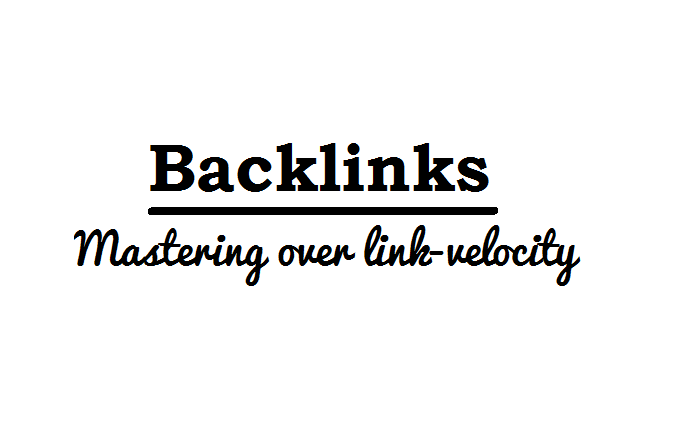 What is a backlink in your opinion?
Well, non-relevant? Fully keyword-stuffed? or natural? In my opinion, a natural-looking backlink used at the right position with the right words work out the best! (but don't forget to make it on an authority site)
But, there's no sense teaching you the ethics of link building because most of you have mastered it and I'm not here to teach you too! Masters…here's a question for you:
You all know how to build authority backlinks that drive people? But what about linking-velocity?
Here, by the term 'linking-velocity' I refer to the number of links to be made for a website. Confused? I'll clear your doubts! Today, I'll be telling you the number of links you should ACTUALLY make for your next blog/website.
How many links you should build for your website?
What "YOU" and most of the people believe in is, "The higher the number of links, the more will be our benefit". You are wrong!
Instead on focussing on the number of links, focus the quality of links. Suppose your competitor is having a website with 5,000 links and you have to beat him. So, instead of building 15 links every day on low-end and ordinary sites, try to build 2-3 high-quality backlinks on authority websites like Entrepreneur.com, CNN, Wikipedia.org. So, in this way, instead on focussing on the number, focus on it's quality and try to make it as relevant as possible.
Now, it's a fact that if you are building a promotional website with a bunch of products hanging on its homepage and relevant content posted inside the website, you'll build a link for the content only, RIGHT (I prefer you to do so).
What will happen if you'll disturb your linking-velocity?
And now the sad case comes, that you've build way too many backlinks. Honestly, you need not worry about it. If you've built high-quality backlinks and that you haven't stuffed keywords in it, then you're safe from the deadly Google Penguin Updates. However, you'll just experience a small drop (for it can be a bit big one too) for 2 or 3 months, but after this time, your backlinks will come into work and you'll experience and sudden jump in your Analytics board.
However, in some cases, one doesn't rank with these high-quality links. Well, in this case, you gotta work out more and try inter-linking through your website's pages. It'll DEFINITELY work!
What should be your speed?
Now that's the question which obstructs. Honestly, what I've experienced in the past 2 years, if you have a natural link building quality and that all of your links are purely natural, then you need not worry about the tensions coming along with tons of backlinks.
If you building, say 500 backlinks in the first month of your website, or make 300 for one of your older websites, then the rankings will slightly drop for a few days, but after some time, you'll see a sudden increase in your page rankings on Google and that your indexing power will improve too!
So, if you are building a new website, you should have equivalent focus on your backlinks as well as your content.
Month 1: Building 10 natural backlinks (try on high authority pages) and focus mainly on your content.
Month 2: Build 15-20 backlinks (keep your focus on highly-reputed websites), divert your focus between content and links.
Month 3: Build 30-40 backlinks (make 20 directing to your homepage and 20 to your internal pages). Try to keep your content going.
Follow the schedule for month 3 thereafter and when you'll have ample amount of links, go on to search keywords and write relevant articles.
Final words…
I have been using this method to rank Sense Bin on some special competitive keywords on Google and it's a fact, "No matter how much authoritative your backlinks are, they'll take up at least three months to start showing their magic," and you don't have any option other than to wait until. So here was my simple strategy and thoughts on link-building velocity and it's ethics. I hope it's clear to all and if having any doubts, drop a comment below and I'm here to clear them all (your doubts 😛 ).