Hello guys and welcome you all once again to #PEAG! (Prominent Entrepreneurs Across The Globe)
Nowadays, blogging and internet marketing have become a very common profession in India, and it has become true just because of those few beginners, who brought this trend into reality, reality into passion, and passion into profession. Since I'm a blogger too, I need not repeat those inspiring personalities again, but just for those who don't know, Amit Agarwal, Imran Uddin, Harsh Agarwal, and today, I'm sharing the story of one of those entrepreneurs with you guys! Read out Imran's road to success from his mouth itself!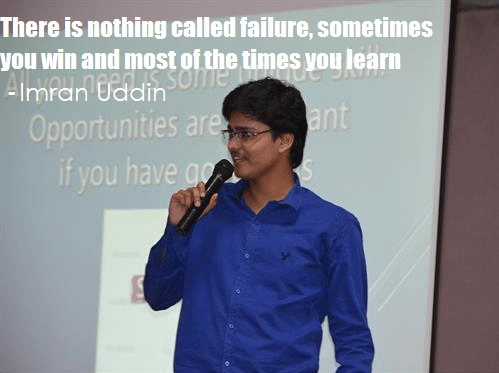 Early Life
I was born and brought up in a lower middle class family. Money was always a big problem in my life. The only thing I knew while I was child to get rid of my poverty was to work hard, get well educated, perform well in academics. I was a good student since the beginning and was always top either it might be in school or my college.
After I was done with my +2 I decided to take up my graduation and try get a good job in some reputed MNC. I am a very enthusiastic person and always try to explore something new. However I was not satisfied with the lifestyle I was going through, I always wanted to come up with something new and unique that can satisfy my ego. Then I started developing some unique skills like Magic, Swimming, Hacking and Programming etc.
Beginning in the world of blogging
To learn anything my primary source of knowledge was Internet and by time I became very found of Internet and Computers. Then I started a blogspot blog to share the things which I learn. I didn't knew that my blog is visible to all, I just thought its just a dairy and no one can view my blog except me. But later I realized that a blog can be viewed by anyone on the Internet. Then I started writing some Tips Tricks and Tutorials which I think might be useful for geeks. People started liking my articles.
Then I joined few Facebook Groups related to Technology, there I started helping people fixing their computer related problems. In no time I have got lot of Fame and my blog also started getting some good readership. At that time I didn't knew there exists something called SEO.
One of my fellow bloggers said me that I am not implementing any kind of SEO practices on my blog, then I started exploring more about SEO and traffic generation methods. In a span of 4 months I was able to drive some decent traffic to my site via Search Engines and Social Media but my earnings were literally zero.
I wrote few posts which are unethical and copyrighted content. Then I realized that copyrighted content won't make me anything. After that I decided to delete all the unethical stuff and came up with a custom domain name. First I bought an inexpensive .in domain name later to make it more professional and to reach global audience I went for .net as .com was not available.
Journey to making money online
Slowly I started making money. It was very tough period though. On a fine day I received a check of Rs 300($6 Approx) from an advertising network. This gave me the confidence that I can earn money through Internet. Then I got $100 check from Infolinks, after that it didn't stop. It went on increasing by 20-30% month by month. Now I make over $10k per month.
Imran's exposure to startups
Here's an exclusive infographic designed for Imran which shows us how he got started with startups and developed an online money making machine.