BBC Documentary on Nirbhaya Case has, no doubt, left a deep impact over many, but slowly, Indian citizens have started suffering the side-effects of the nation's harsh truth. The disgraceful act of evil men against women have started criticising the prestige culture of our nature.
An Indian student was denied for being interned in the Leipzig University, Germany, by a professor because the professor thinks that India is the land of rapes and that it is extremely dangerous for women students studying there! SERIOUSLY???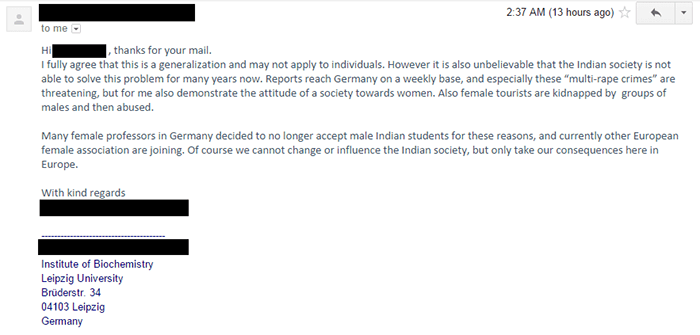 The student of course did not see that coming and was taken aback by the matter, regardless of how much extraneous it may remain on the subject. Are we Indians, one of the most creative people in the whole world, only come across as rapists.
What I ask the foreigners is, are all men the same, and that, all the men are responsible for the disgraceful injustice to women, think about it? How can one compare the hooligans who rape women in India to the students who want to Germany to pursue further studies?
Here's what the professor has to say:
"Unfortunately I don't accept any Indian male students for internships. We hear a lot about the rape problem in India which I cannot support. I have many female students in my group, so I think this attitude is something I cannot support."
However, as this act came across the whole world and the people reacted to it in a violent way, the professor apologized for his mistake. German ambassador to India, Michael Steiner, also reacted to the issue and sent a letter with the title, "My answer to an unfair judgement" to the professor. He also tweeted the same:
My answer to an unfair judgement: http://t.co/jUs7otE135 pic.twitter.com/4Ns2hB5p8U

— Michael Steiner (@Amb_MSteiner) March 9, 2015