Blogging is all about making connections and relating to newbies and fellow mates, right. But that's an art not so easy to achieve. All that depends on the way you treat and respond to other people and what/how are you presenting things over your blog.
An interactive blog is where the readers get a chance to open up with the owner, and today I'm interviewing someone who has mastered this art over his career online. You might just not know, him, but he's someone worth getting inspired by. Meet our guest for today, Mauro D' Andrea.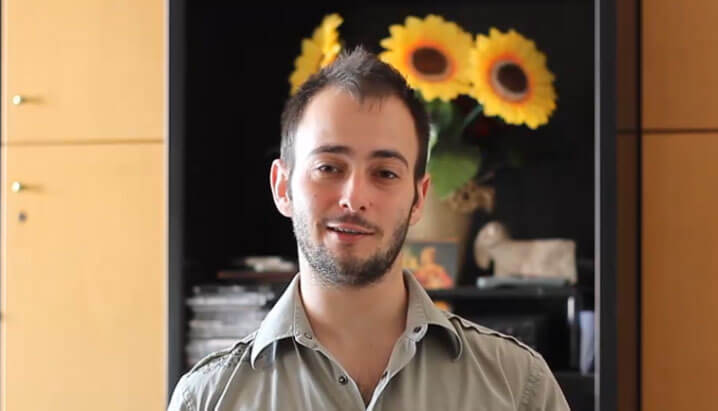 Mauro is a very renowned internet marketer and blogger, who earlier used to share valuable tactics and strategies over www.Blog-Growth.com, he has dropped it now, and shares his strategies over SlideShare. He has worked for numerous internet marketing companies. It's a great pleasure indeed to have him over here!
Divyansh Chats with Mauro D' Andrea
Q.1 Hello Mauro sir. It's a great pleasure having you here at SBIS. Though you are a very renowned internet marketer. Many out there in the blogosphere don't know you. So a short introduction would help!
It's my pleasure to be here with you and with all the readers. I've been an entrepreneur for a few years and have started a few online business.
I have had many different blogs, but now I'm focused on just one that is my main business…and my biggest online success.
Q.2 How did you first come across the term 'blogging'?
It was when I started my first website…I didn't know anything about the online world, I just had the will to succeed with my online business…so I started running some researches and stumbled upon the blogging term.
I was quite excited and fascinated about it…couldn't imagine there was such a huge world around a blog 🙂
Q.3 How did you get started with your first online venture and what it basically was?
After reading Tim Ferris' The 4-Hour Work Week, I couldn't stop thinking about starting my first online business. A couple of months later I started my first blog in Italian.
I was helping people with their relationships thanks to my blog. Soon I started offering an ebook and saw that people loved it.
Q.4 Your blog, 'blog-growth.com,' which you have stopped working on, was regarded as one of the coolest blogs discussing blogging. How did you get started with it?
When I started my first blog, I encountered many walls and challenges, so I wanted to share what I learned along my way.
And I wanted to do it in English (which is not my first language), because I liked the challenge and wanted a bigger reach.
Q.5 What are you planning out to start in the future and what are you working on right now?
Right now I'm still working on my first blog, the one about relationship tips. It has grown a lot since I started it and…as they say "you never forget your first love" 🙂
I'm planning on growing it even more, and also want to translate it and offer an English version too.
Q.6 If you had to define blogging in one statement, how will you do it?
Providing value in a smart way.
In the end, it's all about the value you give to your audience. But you have to be smart about it – just publishing content without thinking about it, will just waste your time.
First, you have to listen to your audience…then you want to share the right content (the content that gets you traffic either from search engines, social media, other authority website, etc)…and that content also have to help you make an income in a way or in another.
Behind a good post there's a lot of work because you have to think about many different things.
Q.7 Do you consider SEO as an important factor while building an authoritative blog?
It depends…
Do your ideal customer use Google a lot? If yes, then you really have to work on SEO.
But let's assume that your ideal customer prefer YouTube to Google by a significant amount. You want to be on YouTube, not wasting precious time and resources on optimizing your website for Google.
Always focus on the traffic source where most of your audience is.
Q.8 Hardly handful bloggers are making passive income nowadays online. How did you get started with your first $100?
Making your first $100 is super easy….if you know the right steps and can be focused enough to follow them.
In my case it went like this: I started writing articles on my blog, started reaching people out on Facebook and after I had a following I published my first very small ebook. It was less than 50 pages and I sold it for 9$.
After I saw people were buying it, I improved it. And then improved it again. And then again. It ended up being my second bestseller on my website.
It's all about that: get an audience, learn what they want, build it, give it to them and if they buy go on from that.
Q.9 Can we have a look at your workstation with a picture?
You don't really want to see it, it's super messy 🙂 Like…A LOT 🙂 and then it would reveal my strategic chocolate bars.
Q.10 What was the gameplan you have in mind to grow your online business?
Up to now, for my current business, I focused my efforts on one traffic source and I'm getting closer to its maximum reach, so we can say I "conquered" it. I already picked the second best traffic source for my business and I'll be working on that. After conquering that too, it will be time for the third one and so on.
On the other side, I'm also going to work on improving "traffic monetization". The goal is to convert as much traffic as possible into clients and doing the best for clients (which will also help client retention).
Q.11 What are the basic sources through which you drive traffic?
Right now, I get a huge amount of my traffic from Google. Then there's a good amount of direct visits, which means I'm doing a good job with the blog. And then Facebook, YouTube and refferals from other authority websites.
Q.12 Any conclusion message for our readers?
Yep! In the moment of hitting a wall, many people will keep going against it…they won't get on the other side in this way, the wall is just there. But there's always a way to bypass it, your task is find it out.
In the end it's all about using your brain to solve problems and think solutions until you succeed.