Jayalakshmi: WhatsApp Satyam Shivam Sundaram Girl is not a maidservant. A video of a girl singing the song "Satyam Shivam Sundaram" has gone viral on social media. The video started from WhatsApp and then was uploaded on YouTube. This beautiful girl with a golden voice is Jayalakshmi from Kerela. The video of this girl went viral on WhatsApp with a message saying " This girl is a maidservant somewhere who sings like Lata Mangeshkar! Enjoy the song and circulate to help her gain some recognition."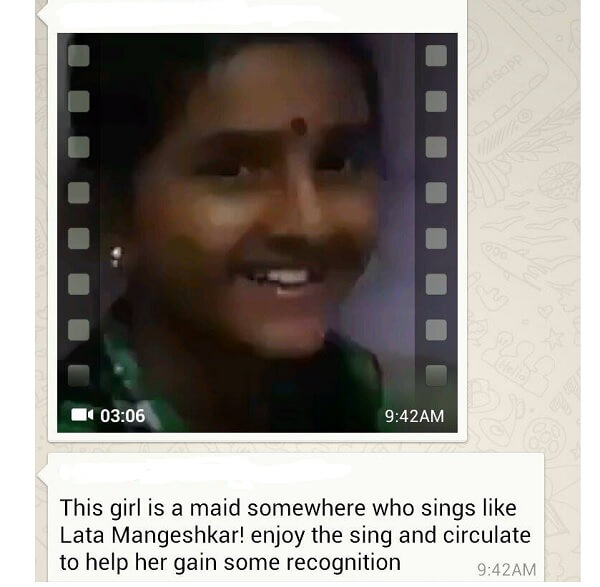 The media personnel from Zee Tv watched this video and started a mission to search this girl. Zee Media's passionate search for "This golden voice on WhatsApp" ended in Kerala. Her name is Jayalakshi and lives in a small village Pallipuram in Kerala. This girl is 11 years old and has become the star on social media and the credit goes to WhatsApp and Zee News indeed. The most wonderful fact to know is that the girl doesn't know Hindi language at all and sings the Hindi songs so well. Her video was seen by leading music artists of Indian music Industry including ghazal singer Peenaz Masani, Jaspinder Narula and many more.
Jayalakshmi's father is a retired army officer and she got her singing classes from her mother Pritya Jayakumar. Her brother is also sings. One day her father recorded her video of and shared it on WhatsApp which soon went viral and brought the little girl on national television. We on behalf of Sensebin thank Zee News to bring her in the limelight.
Though the message of her being a maidservant is absolutely fake but the best thing is that her talent got a platform and brought her to Zee News.
Not just Zee News media personnel but a famous poet Kumar Biswas was also searching for this girl to give her further education and help her gain the recognition. Watch the video to know more about this latest singing sensation in India, the WhatsApp Satyam Shivam Sundaram Girl with the golden voice.
Jayalakshmi: WhatsApp Satyam Shivam Sundaram Girl