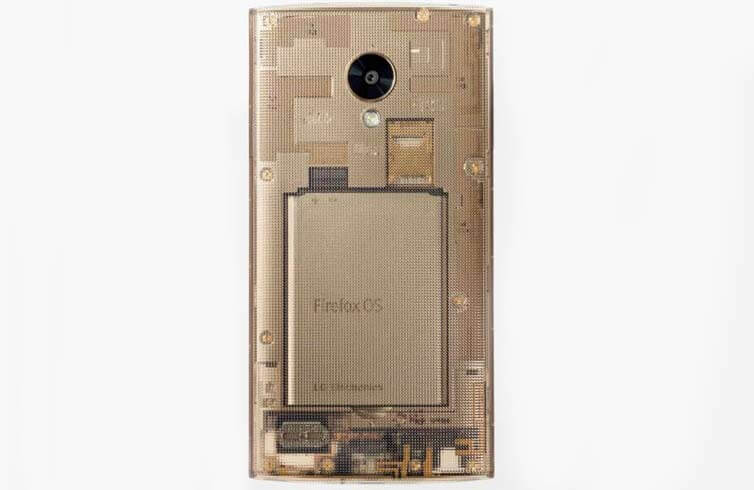 LG Fx0 is a brand new smartphone, that will run on Firefox OS, will hit the market this Christmas and the notable thing in it is that it will come up with a transparent shell!
The phone, LG Fx0 is a phone that stands out of the crowd of the iPhones and Androids because of the transparent exterior body. The transparent body device is launched with the partnership of Firefox along with Japanese technologies giant KDDI. The phone includes some of the most common specifications you'll find in every phone today like 4G LTE and NFC (near-field communication), the technology used for mobile payment transactions.
Regarding specs, the phone is not that good, though very much remarkable that the rest of the phones running on Firefox OS. The model has been designed by Tokujin Yoshioka, who have already worked for LG G3. The phone's exterior body layout shows the internal structure of the phone. Saying from the point of view of a developer -centric audience, the design doesn't seem to be that impressive.
The phones running on Firefox OS have received great appreciation from its users and that it is stocked at a very cheap and reasonable price, it is able enhance great amount of people, but still, the race for the beginner has just started and it has a long list of tough competitors to compete with.
Here are the basic specifications the phone will come up with:
4.7-inch screen
1.2GHz Snapdragon 400 processor
1.5GB of RAM
16GB of internal storage
2,370mAh of battery
Here's what Takashi Tanaka, President of KDDI has to say for the upcoming giant:
"We are very pleased to bring the first Firefox OS smartphone, based on Web technology standards, to the Japanese market today."KDDI hopes to build the new era of the Web through Web of Things, enabling everyone to create custom connected Web experiences."