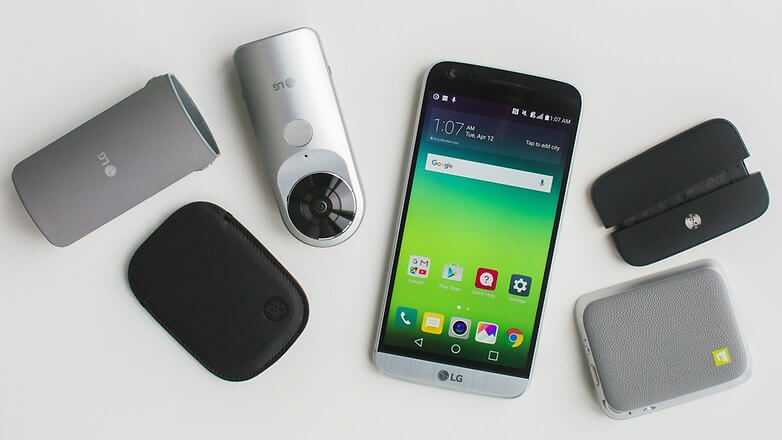 So the sad news is here, LG G5 won't be launching in India this month, however company is rolling out pre-bookings for the 'modular phone' from tomorrow till 30th May and the special thing about this pre-booking period is that all will be getting a LG Cam Plus free upon booking this now.
The pre-booking will be available at LG Brand stores and online exclusively from flipkart.com. The LG G5 has been one of the most talked about phones in the recent times, courtesy to it's unique design and robust specifications. The G5 comes with a brand new design; a sleek, metal uni-body featuring a slide-out Battery tray and a Modular Type design that enhances the overall smartphone experience by providing true convergence whereby the smartphone transforms into being smartphone plus camcorder or smartphone plus Hi-Fi music amplifier etc.
Mr. Amit Gujral, Marketing Head – Mobiles, LG India said, "The wait for the most anticipated smartphone, in fact the first ever modular phone of 2016 to arrive in India is now over. Customers can now pre-book the LG G5 and we hope more and more people will take advantage of this opportunity. The G5 is our most innovative smartphone till date and consumers would surely be awestruck on the most innovative modular concept of LG G5. We are very excited to bring LG G5 to India."
The LG G5 is equipped with the Qualcomm Snpadragon 820 processor with Adreno 530 graphics. The 820 SoC is integrated X12 LTE modem that supports Category 12 download speeds of up to 600 Mbps and LTE Category 13 uplink speeds of up to 150 Mbps. You have a 16MP sensor on the back side with a 8MP shooter on the front. As already mentioned, you'll be getting a LG Cam Plus if you book the LG G5 now.
Sunil Lalvani, Vice President and President of Qualcomm India, said, "Qualcomm Technologies is very pleased to work with LG on their latest flagship device, the LG G5, featuring the Snapdragon 820 processor with Qualcomm® TruSignal™ Multi-Antenna Boost technology, enabling a superior and reliable connected experience. LG and Qualcomm Technologies have worked together for many years with the shared goal of enabling new and exciting user experiences for consumers. We look forward to seeing the LG G5 launch in India."