Make money with Infolinks? Hmm!!! Is it possible guys? Well, almost every blogger will answer this question as know, because 90% of the bloggers in the blogosphere have failed in being a successful earner regarding Infolinks. Even, the pro bloggers in the blogosphere hardly earn $30-$40 from it, which is surely not enough, is it? But my mom, Shiwangi Peswani's answer would be entirely different for this question. I hope that you all know my mom, Shiwangi Peswani has been quite successful in earning decent amount of money from infolinks and not only my mom, but one of India's biggest blogger, and my role model, Kulwant Nagi also says the same thing.
Check out this post stating that he earns $400-500 monthly from Infolinks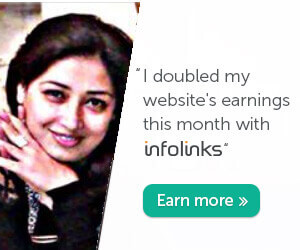 One day, I asked my mom that how is she successful to earn $150-200 dollars through Infolinks without any sweat and toil whereas the other bloggers apply tons and tons of efforts, still they are not able to earn even $50 from Infolinks. So, she told me each and every simple technique she use to earn money through Infolinks from her blog, www.KittyGroups.com. We almost had a 1 hour conversation, regarding this topic and today, at Sense Bin, I am presenting the whole blogging discussion between me and my mom where she told me the simple techniques she used to make money with Infolinks in form of a blog post so that the other people, who also wanna earn money with Infolinks would become successful in their mission. So without wasting any more time, we should begin with my article.
How my mom earns $150-200 every month with Infolinks without any sweat or toil
She used the base color of the Infolinks at her blog matching the blog's link color
This is the first and foremost technique everybody should use if he/she really wanna earn money with infolinks. Choose the infolinks color which suites the best to your blog i.e. which matches with your blog's menu color or which matches with the link color of your blog. This will make your text Infolinks ads look realistic and your loyal will think that there is another magical post inside this link (if you write such posts :P), which will result in decent amount of money through them. You can change the color of the infolinks by navigating to the Customization page of your infolinks account and change the in-text color of your Infolinks.
She chose the best content Category and filled up all the requirements correctly
Choosing the best category and filling up all the priorities correctly and detailed with make Infolinks also think that the person is here to work seriously with Infolinks. Also, selecting the suitable content category will help you to get Text Ads related to your blog's niche which will again make your audience think that it is a link to another post, and will again result in good amount of money. So, isn't this a short-term and easy technique to earn money from infolinks?
She applied 5-6 Text Infolinks Ads on each page
Some people think that applying more and more Text ads of infolinks on any of their pages will benefit the a lot, but it is not that so, moreover, they'll suffer loses by doing this. Now the question which would be raising in your mind is that how will it result in loses. Well guys, applying more and more text ads will harm your blog's SEO to a great extent and will make your webpage complicated and difficult for your audience to read. Then next time, they would not like to come to your blog again, so instead of a boost in earnings, you will suffer a huge amount of visit loss and I hope you know, that Infolinks only works fine when your blog gets huge amount of visits. Even, one should not apply more than 3 Ad units on a webpage. If you'll do so, then the results will be same as I have written above.
She made here content go viral all over Social Media and Search Engines
As I always say, Content is the King and my mom too follows the same policy (just like me and all the bloggers in the blogosphere). She blog's at www.KittyGroups.com where she writes about interesting Party Ideas, which makes ladies to mad!!! And she writes articles on the upcoming festivals which make her content go viral on Social Media and Search Engines, which would obviously result in huge and huge amount of traffic and mates, always remember this equation in blogging.
Huge amount of Traffic = Huge amount of Income
Less amount of traffic = Less amount of Income
Now, you all might be thinking that before beginning with Infolinks, you need to get your Infolinks account approved and alike Google AdSense in this case, it is very difficult to get an Infolinks account approved. So, in this post, I am also including the tricks which I and my mom used to get our Infolinks account approved, however I was not successful with Infolinks but my mom was :P!!
How to get a site approved for Infolinks?
For an easy Infolinks approval, your site must fulfill these requirements
Your blog must have a rich or Royal-hearing domain name
You must have at least 40 unique articles at your blog
Sites in which articles are

in English

get approval more quickly
You should have at least 7 articles which get 150+ pageviews daily
Site must have valuable content and the content the content should make some sense
If you blog is having all the qualities I have listed above, then you should follow the steps below to get your blog approved for Infolinks
Sign Up to Infolinks.com
Fill up all the required entries with the correct information and fill your blog's URL
After filling up the Approval Form, you will get a mail in 48-72 hours stating weather your blog is approved or declined
If your blog is approved, then you'll get a mail just like below
So here are some basic steps and requirements by which you can easily get your Infolinks account approved. Have a look at my mom's monthly Infolinks Income report for a proof.
My mom's monthly Infolinks Income