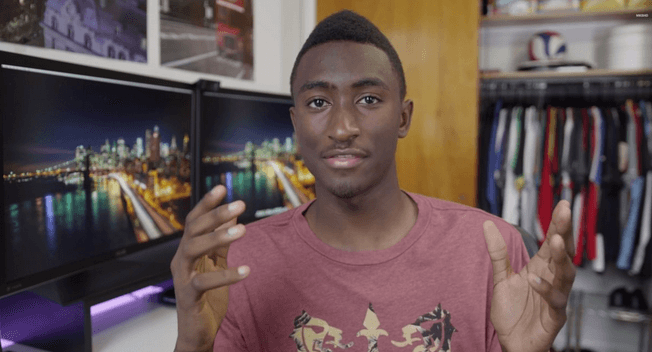 Meet Marques Brownlee, World's best Technology reviewer.
Marques is just a 20-year old youth but even at this age, is doing something nobody can do better than him, explaining latest Android Wear in a detailed manner.
Former Google VIP Vic Gundotra also called him the "The best Technology Reviewer on the Planet right now!"
As per I've noticed, this young entrepreneur's Youtube channel, 'MKBHD ' has over 1.5 million youtube subscribers and around 150 million views on his videos, in total. But he didn't get success as legacy. He'd worked hard day and night to achieve it for the last 5 years. Also, his simple but detailed and informative review-videos are easy to shoot and useful to watch, beneficial for Marques and the audience both!
Also, he says that his channel was a solo effort, is a solo effort, and will always remain! According to Brownlee, he was always in deep love with technology. Even his father works in a technology-based company, but he was more fascinated in consumer technology like the computers, camcoders, mobile phones and just like that.
In his interview with Business Insider, when he was asked about his early life and the beginning of 'MKBHD', he replied:
"When I first started making the videos, I didn't tell anyone about it," he said in an interview with Business Insider. "Not [my family], not anyone. But after awhile it was something that was pretty obvious, since I was making a whole bunch of videos… I just didn't necessarily feel like telling people about what I was researching."
He'd work till midnights to build a relevant audience for his channel and you'll be shocked to know that by the time he'd completed his 100 videos he only had around 80 subscribers. The only method he used was to answer the doubts of different users on his videos and today, his videos are touching the sky but according to him, there's still very much left to achieve.
As per Google trends, Marques' Youtube Channel started gaining internet attention through Vic Gundotra's G+ post.
When he was asked about his future plans i.e. life after college, he said that he'll continue his youtube business as it is more a fun for him than his business.
"But having a degree," he said, "I went so far with school so I might as well just finish. Getting my degree is something I'll be really happy about. I'll wing it from there.