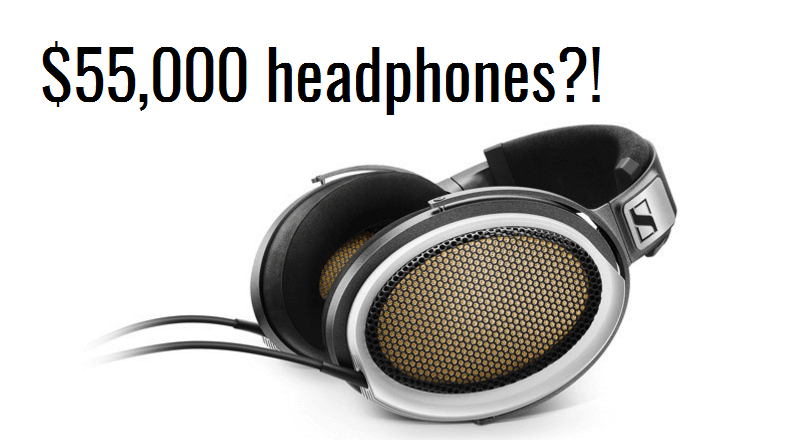 Well that's truly NOT an april fools prank, they do exist! So about 15 years back we had the first series of the Sennheiser's Orpheus, and it was just super promising, sounded really good as far as I researched about it on the net, and well after so damn long they decided to hit the market again; this time, with the Sennheiser HE 1.
So the Sennheiser Orpheus were the most expensive pair of headphones AT THAT TIME, priced at about $15,000 and their upgraded version probably followed up; tagged up at $55,000 (rounding up the figures!)
So the Sennheiser HE 1 is a true beauty, keeping the figures aside, I genuinely loved the design, open back, cloudy on the sides, with an audio range from 8 Hz to more than 100 kHz, that really tells you what music really is. Sennheiser HE 1 is the first electrostatic headphone with a Cool Class A MOS-FET high voltage amplifier integrated into the ear cups.
So you have got gold vaporized transduckers, with silver plated OFC cables, well, that probably is the reason it has been priced so high! You get two types of amplifiers along with this $55,000 package, tube amplifiers and transistor amplifiers. Its amplifier sits on a housing crafted from glass, and a solid block of Carrara marble.
The HE 1 are specifically given the tagline of shaping up the real audio, with the company being so confident that if you don't sound good opting up the Sennheiser HE 1, well, it's your phone's mistake, and why not, it's worth $55,000, at least it should have something special!
So this is definitely one of the most interesting piece of tech I saw this year, I opt it, but being priced so high doesn't really make it our thing right. I can buy a car, a bunch of iPhones and Galaxies for $55,000, definitely, NOT spending on these!
So I take off now, write to you guys soon!
(And yeah, if you wanna buy these, which none of you would, go to this link
And yes, all image credits to Sennheiser's official website!