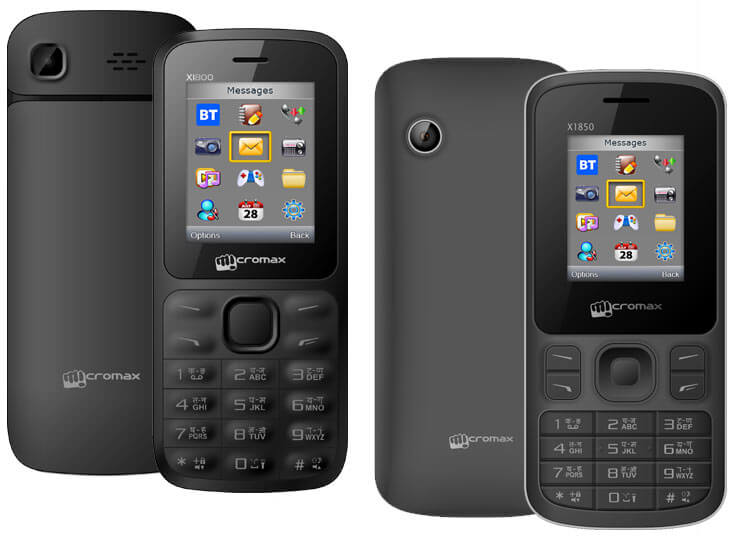 It seems like Micromax is a huge step in their phone manufacturer section!
Micromax launches probably the cheapest phone I've come across; Joy X1800 and Joy X1850, priced at Rs. 699 and Rs. 799, respectively. The phones will offer the most basic features like a low-battery life, low-quality camera, and so on. But the noticeable thing to be noted is that the phone will be given to their customers in a pouch, instead a box.
Joy x1800 has got a 4.49 cm sized screen, memory expandable up to 4GB, Bluetooth and Radio, 128 x 160 (QQVGA) screen resolution, 0.8 MegaPixel camera.
Joy X1850 has numerous similar features as Joy X1800 like a 4.49 cm screen, 0.08 MP camera, 28 x 160 (QQVGA) screen resolution but offers a 1800 mAH battery quality, 7.5 hours of talk time and 25-day standby.
The company have targeted $150 to $200 (Rs 9,000 to Rs 12,000) segment, with products such as the Canvas Nitro and Canvas Hue.
As per the recent reports, Micromax will ship approximately 22 percent of the smartphones in India in the month of October and December as they sold 4.6 million phones, compared to 4.4 million by Samsung.
The company is majorly aiming at building trust among the Indian customers and focussing on making it the best Android wear manufacturer for the Indian customers. But the surprising issue is that, as we're coming across such marvellous technologies and smartphones, why did the company launch such cheap phones?
Also, it's a fact that out of the 21 million phones in India, 23% of them are ranged under $100. It is this market which Micromax want to rule over, which is being dominated by Nokia since the early goings.