Google Play Store is great but it is always a great idea to keep some alternatives ready. You might want some apps which are not available in the Play Store, or sometimes it is not just accessible due to some or the other reason. There are plenty of apps stores which claim to be an alternative to Play Store but not all of them are good in terms of usability and dependability. MoboMarket is one of the best app stores and there are some good reasons that it has gained a huge popularity recently.
MoboMarket for PC
MoboMarket is user friendly- Not every Smartphone/PC owner is tech savvy and thus an app store has to be simple and user friendly. This is where MoboMarket gets full points. It comes with an easy and simple interface and it is quite easy to search and browse the available apps. The apps here are well ordered into sections and categorized according to their type and popularity.
The Apps section is further classified into
Home- Here you can see the featured apps, featured collection and editors pick.
New Release- This section has the newly released apps.
Categories- Well customized categories makes it easy for users to select the app they want.
Collections-This section shows the featured collection of apps.
Top Charts- This section displays the most popular apps.
Must Have- This section includes some very useful and important apps.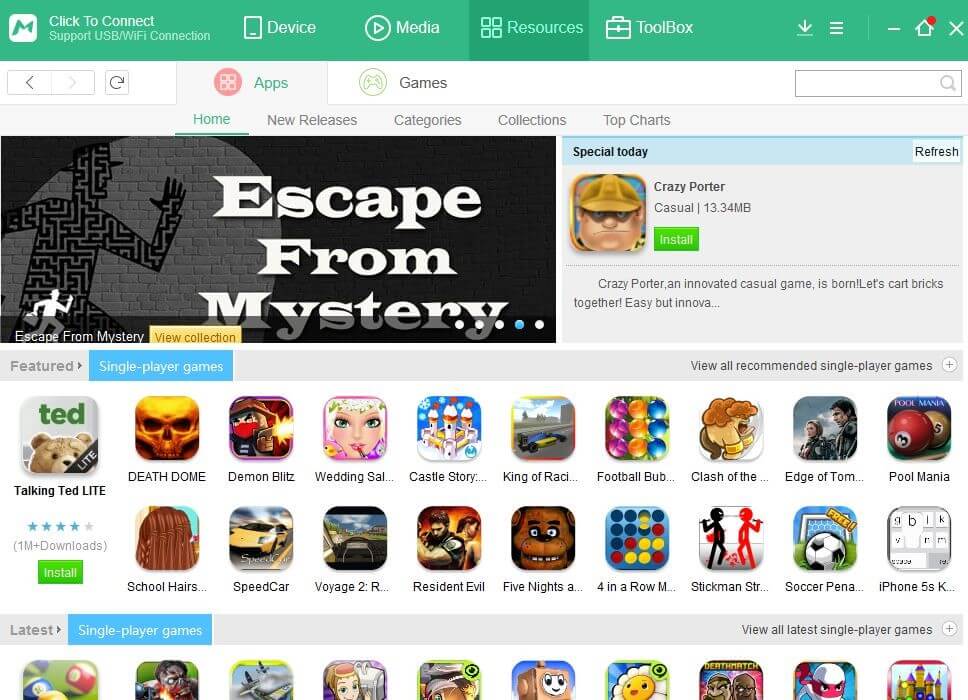 The Games section in classified into-
New Releases- This section includes the newly introduced games
Categories- Here the games are organized according to their genre
Collections-you can check the entire collection of games here.
Top Charts-This section shows the top downloaded games.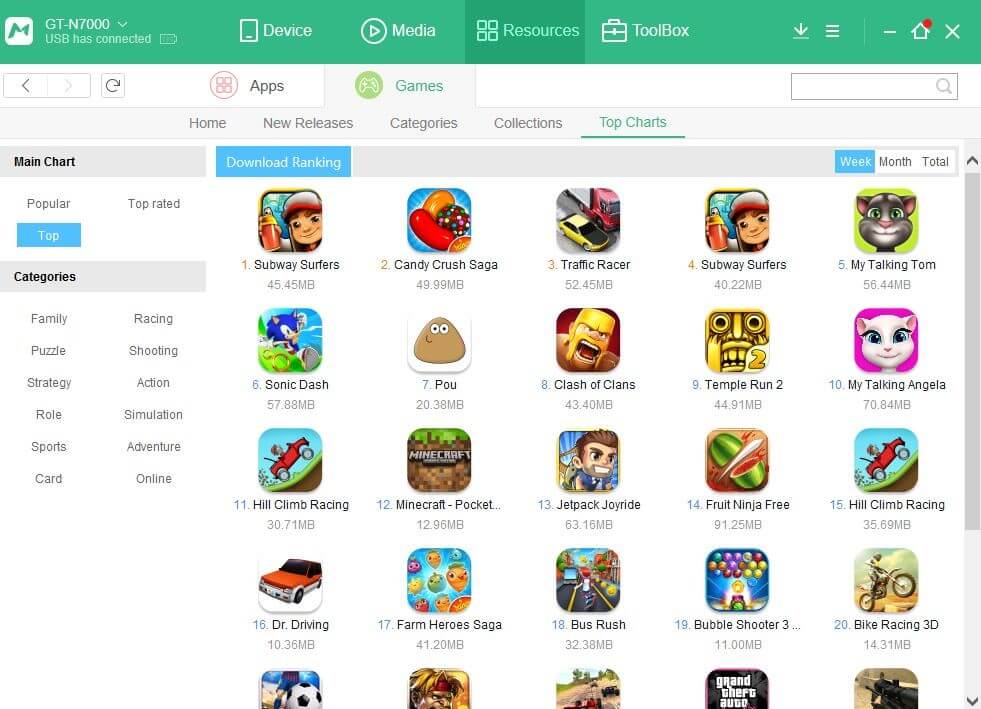 Good Collection of Apps- MoboMarket has a good and intuitive collection of apps. Click on Resources and you can see the entire collection of tons of apps here. Some of them are new and some of them are common to those available in Google Play Store. Like most of the other app stores, MoboMarket also gives you apps suggestions according to your search history and the apps you have installed in your device.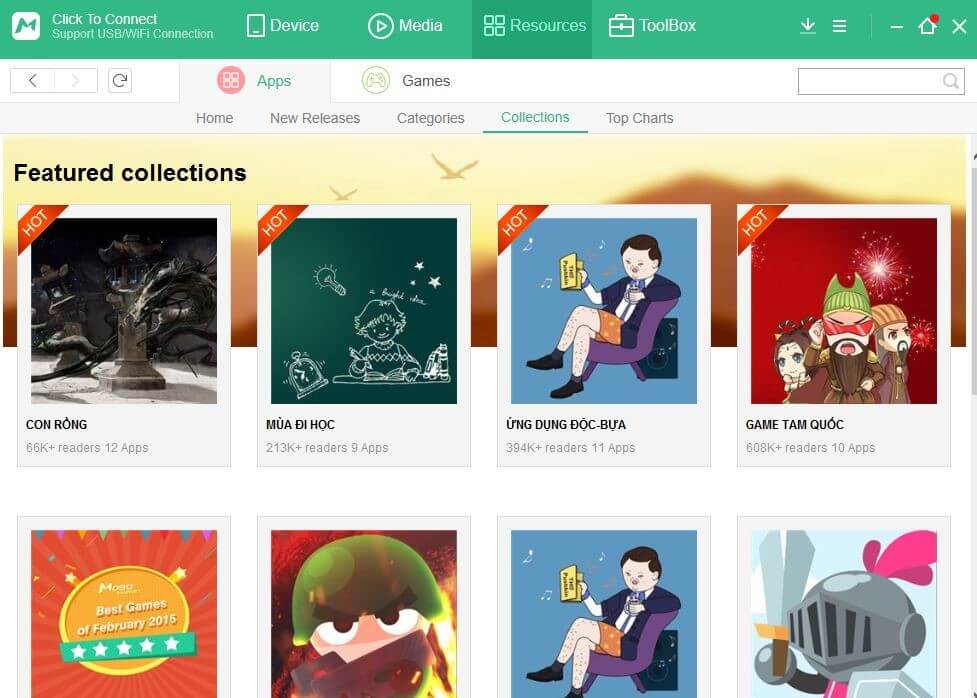 No google account is needed- Another good thing about the app store is that you don't need a Gmail account to browse of download an app from the store. Simply browse the sections and categories and download any app you want.
Media-Unlike the other popular apps stores, MoboMarket has an extra feature of Media where you can play the media files stored in your PC or send it to the connected Android device.

Sync your Android device with PC- with MoboMarket you can connect your Android device with your PC via USB cable or WiFi, however the WiFi feature is still under development. Just click the 'Click to Connect' and follow the connection wizard instructions to connect your device. Once you are done with connection, click on 'Device' and access the contacts, images, music files, apps and updates of your Smartphone.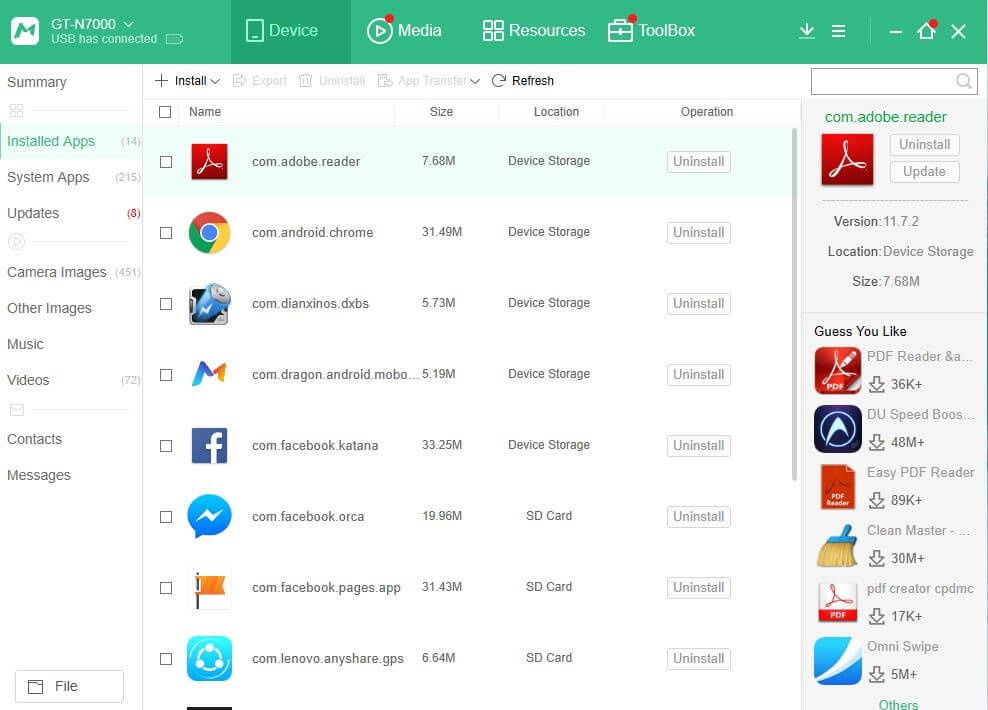 ToolBox- Click on the 'Toolbox' tab in the main overview of MoboMarket and you can see the interesting tools of MoboMarket. You can view your Smartphone on full screen, take a backup of your device, restore the backup and also manage your files in Smartphone via file manager.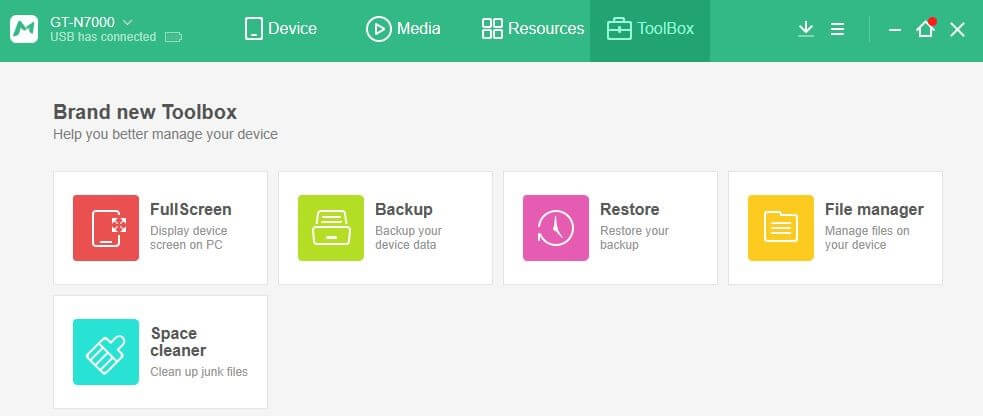 MoboMarket Settings- Click on the Settings icon on the top right corner of MoboMarket main overview and adjust the settings according to your own preferences. Besides adjusting the general settings, you can also change the language and go to the online MoboMarket forum via BBS button.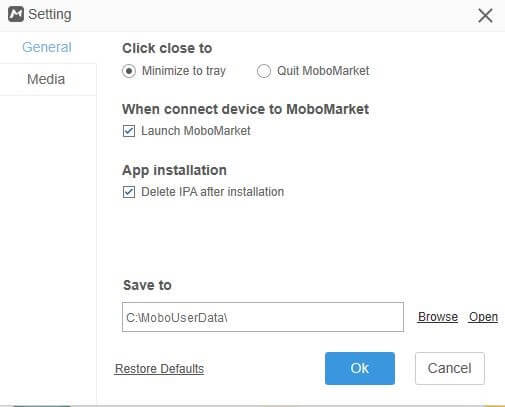 MoboMarket V5
While MoboMarket has been in the market since 2012, the latest version V5 comes with some functionality improvements and bug fixes like-
Brand new iOS manager
Manage your iOS device, both jailbreak and non-jailbreak (iOS 8.3 supported).
Manage your games, Apps, music, files and backups all in one place.
Improved Android manager
Strengthened device connection and file management experience.
New Green Skin for Android
Optimized auto upgrade mechanism
Bug fixed
Verdict- Overall MoboMarket is a simple and useful alternative to those who don't want to use Google Playstore. You can go to the Homepage to download the software or can download it here directly.
Note: If downloading on Google Chrome is showing errors, try downloading via Internet Explorer or Mozilla Firefox.