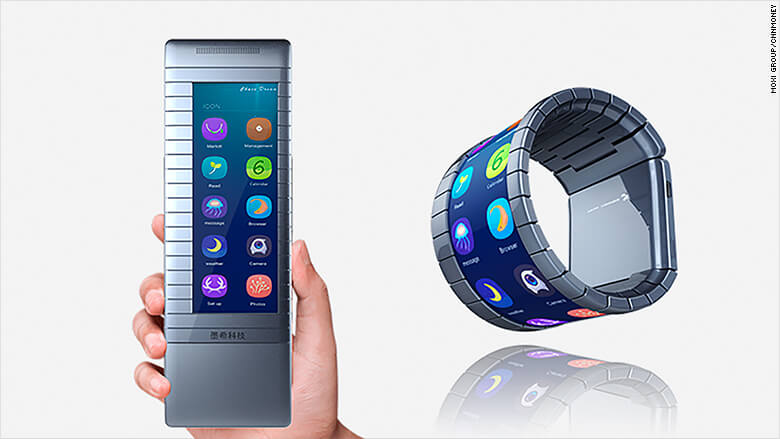 With time evolving, we've been seeing smartwatches become a common thing. With Moto, Sony and Apple aiming at delivering their best at smartwatches, a chinese startup Moxi firms decided to move a step further, making a smartphone that can turn into a smartwatch, well, not really!
Moxi's upcoming $762 smartphone, to be honest, looks ugly from the vision of a smartphone, but the damn thing is so flexible that it can be bend like a wrist band or a bracelet. Moxi's phone is made up of graphene material which helps it to bend easily. And it's a smartphone too.
The company says it already has a prototype built and that it will have 100,000 units for sale in China by the end of this year. BUT, there's always a but, and it's bold here because there is a catch here. Initially, Moxi's smartphone will come with black and white display. And also there isn't any official confirmation yet what kind of operating system will the Moxi smartphone come with.
Of course, it's expensive, pretty much something that won't fit into your budget. You gotta put up 5000 yuan or £520 or $762 to get this thing in your cart. Now obviously if you're loaded in with money and really fascinated about techs, then you can buy this, fold this in your wrist or use it as a phone.
Now definitely this is a blend, quite of a game-changer it can prove in the Chinese market, but we gotta see if people prefer what this phone offers other than it's specifications.