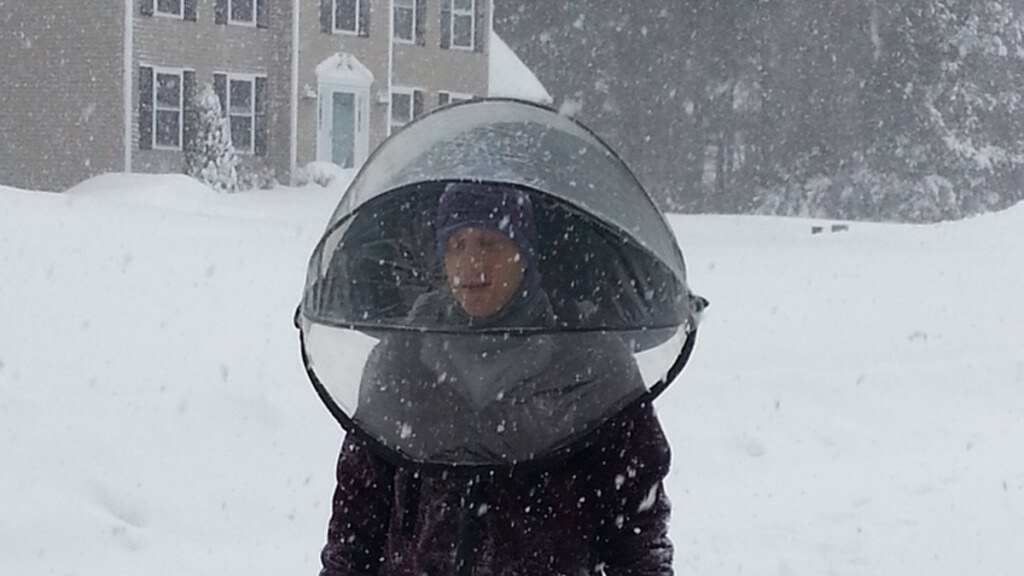 The concept of Nubrella was first leaked up 4 years ago as an umbrella in which you need not apply your hands. Well, in these 4 years, this concept has evolved to a great extent. Well, have you seen anyone wearing such an umbrella in these 4 years in public? NO it is! Well, the official designers for this concept are in an attempt of a drift and are now coming up with an improved design of it!
The company have officially stated that the product was successfully sold out in more than 82 countries across the world! Here was the response of the company's officials on this product's release:
"Overkill protection is the phrase that people used while complaining that this umbrella killed communication while impairing vision and also imparting a goofy look."
Well, the officials have promised that its users are not gonna face all such issues in the new model. Now lemme introduce you to the basic changes that have been made in the new model:
The best thing is that the visor has been reduced and the ends are just above the eyes, though after this, the users would be exposed of little bit of rain, but now the users can easily breath out, fact bigger than being exposed to rain
Also, the size of the Nubrella has bit increased, allowing the users to use their smartphones and headsets effortlessly.
The deflector has been secured to the backpack-akin harness having a belt for waist and straps.
Also, the company is planning to launch a detachable backpack Nubrella also. A remarkable thing I felt about the gadget was that just with a button, the backpack collapses, great, right?! And yes, the new and expected model of Nubrella is capable of bearing strong winds, up to 40 mPH. However, the model weighs 1.1 kgs. As of now, the company is raising funds and the model is gonna start off with $49. The reports state that the model will be shipped to almost the whole world by 4 months from today i.e. April 2015.
So guys, what are your views on the world's first 'hands-free' umbrella? Are you gonna buy it? We would be grateful to know your views through the comment box below!