Yup, we're finally doing it, and I'm sorry for those who expected a Mi 5 comparison, well, I haven't tried it out yet. Anyways! Going a bit back so we had the Le Max 2 launched on 8th June. Okay, great flagship, I decided that this would be my next phone, and then we had the OnePlus 3, okay, another great phone, just top notch, and at one point it just made me freak the hell out!
Anyways, today I'll compare the Le Max 2 with the OnePlus 3 specs wise and on the basis of the few hours I got to spend with them.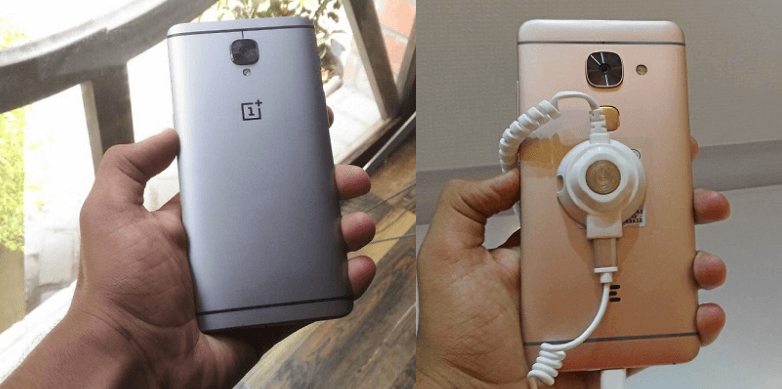 So, first let's talk what all is common between them!
Both of them sport the Snapdragon 820 processor clocked at 2.15 with 6 gigs of RAM (that's HUGEEE) and 64 GB non-expandable storage. However you also get a much reasonable 4GB RAM and 32GB storage variant (I feel one won't need more than that). Both of them sport Adreno 530 GPU and a fingerprint sensor, both of which work super fast!
Both the OnePlus 3 and the Le Max 2 have an 8MP camera but there is a 16MP snapper in OnePlus 3 back side and a 21MP in Le Max 2. Now, the differences. You have the Android 6.0.1 Marshmallow in OnePlus 3 and the 6.0 Marshmallow in Le Max 2. *MINUTE*
You have a 5.7-inch screen in the Le Max 2 and a 5.5-inch screen in the OnePlus 3. Again, not really much to pay attention, but even that 5.7-inch display feels much smaller. You have a 3100mAh battery in the Le Max 2 and a 3000mAh battery in the OnePlus 3. DAMN, wonder when will I get to see a BIG difference!
Now, you have a much better display in the OnePlus 3, an optic AMOLED display while you get a simple LCD display in the Le Max 2, but most of the common Indian buyers don't give a shit about it. Phew, that's it! I don't feel like bringing about any more specs. Talking about my experience so both of these phones felt really good in hand at the first glass.
The finish of OnePlus 3, to be honest, felt much premium than the Le Max 2, but the overall design, they both are equally good. The camera for the Le Max 2 offers much more details and it's CDLA system & USB Type-C headphones port in the Le Max 2 seemed promising.
The Le Max 2's 4GB/32 gigs storage variant comes at Rs. 22,999 and the 6GB/64 gigs storage variant comes at Rs. 29,999 whereas OnePlus' only 6 gigs RAM variant is priced at Rs. 27,999. As I already said, a common user must not require more than 32 and 4 gigs for common usage, and thus in my personal opinion. I'd prefer Le Max 2.
But again, all of us have different mindsets, right? Let us know which one would you pick out of these two. 🙂