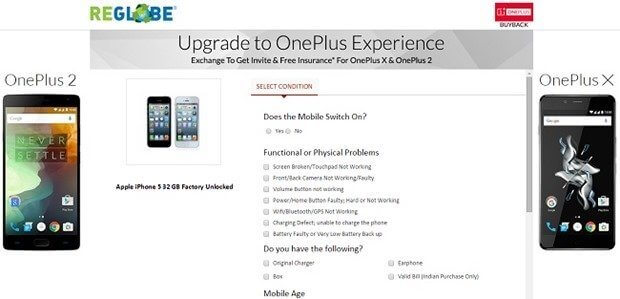 OnePlus has recently launched a new offer to boost their sales and popularity in India. Now, OnePlus fans have got an exciting deal to make, and can exchange their old smartphone with a OnePlus phone! And you now not even have to worry about selling your old phone, as OnePlus has tied up with ReGlobe to buyback the old phones.
For now, OnePlus is offering only two deals. Either you first sell your phone and buy it later or you buy it first and sell it later, as per you want. In both of these offers, your old phone will first be checked by ReGlobe, for that you can visit their Dedicated Page or registering on OnePlus' official page. OnePlus selected ReGlobe keeping the fact that it is getting popular day-by-day and is today one of the biggest Smartphone valuation program.
For now, buyers could purchase OnePlus phones only via invite but in this exchange program, potential buyers can get the invites and insurance for the OnePlus 2 and OnePlus X. Both the offers have got procedure of their owns and here's how it goes!
How the Exchange Offer Works?
In the buy first sell later offer, the buyer will get a invite code and then will schedule a date when the officials will pick up the old phone. It will then approve the sale of the old handset and will then confirm OnePlus if the user has activated the invite or not. Then, the user will be sent the purchase link where they can avail the insurance alongside with an Amazon gift coupon that would match the quote of the user's older device within 3-5 working days.
In the other deal, user can first sell the old phone at ReGlobe. After the transaction is completed, the user will be given an invite code for their favorite OnePlus invite. They will be given an Amazon Gift Coupon as per the price for which their old handset has been sold. The advantage in this offer is that the user can ask for cash instead of the gift coupon, but in this way, they won't get the insurance or extended warranty.
The OnePlus One also falls under the exchange offer powered by ReGlobe, however, no invite will be provided, and no insurance or extended warranty scheme will be bundled.