'Conversions', is blogging possible without it? Obviously, a stupid question because the understandable answer for it is NO.
But achieving conversion is not such an easy task. Lot of hard work, consistency, and attention is required for it, right? But how if you achieve it as easy as ever! Well, a simple solution is up for it that just costs $67, that is, definitely, not a BIG amount today. Wanna know what is it?
It is called Optin Skin (aff) and it is kind of a big deal!
Though it is no new nowadays, many blogging experts have spent out hours and hours, creating an optin-box that is still not able to convert as much as they want, but once guys like Darren Rowse and Pat Flynn have get their hands on it, they just can't stop themselves speaking out awesome about it! Now, it is obvious that such acknowledged people can't be wrong recommending this plugin. So, let's begin from the beginning!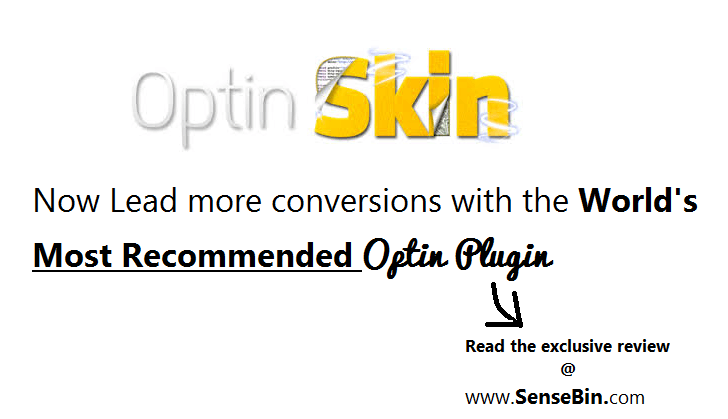 Optin Skin is a premium WordPress plugin that allows you to put up kickass optin-forms in any part of your website, and by that, I mean ANYWHERE!
As you put up impressive optin boxes on the different parts of your website, you also have a control over the subscribers, impressions and clicks being traced on each of the forms working on your site.
According to the current reports, Pat Flynn is improving his blog's subscribers by 28% as a weekly rate, just by the attraction these sexy optin boxes offer!
Here's how you can work out with Optin Skin to improve your blog's conversions!
4 Reasons this is the Most Important Plugin Your Blog is Missing
1. Customize your best out of the 18 striking default Optin Skins
As default, you have 18 different options i.e. 18 different skins that are all fully customizable. All you gotta do to enter the gateway to ultimate customization is click on 'Add New' option under the Optin Skin (aff) window in your WordPress Admin Panel.
Customization here is quite simple. Some of the major designing elements (fonts, colors, graphics) can be customized within seconds.
If you don't lack experience in coding and HTML designing, then you can also code a skin for your own, using all the customization options offered in the default designs.
2. Choose the skins placement on your own

Now, you need not mess up your website placing different and hard-to-understand codes on the different parts of your website to get an optin skin out there. With just one click, you can have your form show up effortlessly on spots of your website like:
Below the posts
Above all the posts
Below the first paragraph of your blog posts/pages
Floating below the second paragraph of your posts
Attractive skin in the sidebar, or
Any other spot on your blog, wherever you wish to put up, just by adding a shortcode or a custom widget
3. Fade Graphics

Well, this is kind of a SLICK feature!
As I told you, you are allowed to put up Opt-ins (Above the post, below the post, in the middle of the post) in any area of your blog with a fading effect after 'x' number of seconds. Now,
How is it gonna make people convert more?
Obviously guys, this feature is going to be something different from the whole of your post and thus, will draw more and more attention of your readers and thus, will convert more!
Also, you can make the optin stick to the top once the readers scrolls past. Once the reader have finished reading the post, reaching the bottom, he/she will feel a special fade effect for 1 seconds (or whatever time you want) below the comments are loaded.
Impressive, isn't it?
4. Works with all the email marketing providers

Optin Skin works with Mailchimp, AWeber, iContact, Constant Contact, Getresponse, FeedBurner and Infusionsoft.
That means not only 1 or 2, but Optin Skin supports complete 7 Email marketing services!!! Something you will not find in all skin providers, right?
You also have the option to specify a redirect URL which is a page people will land on after opting in.
Some endorsements for Optin Skin
"For 3 years, I've tried to customize and test my email opt-in box on various blogs and projects. And every… single… time… it's been a huge pain in the ***. I wish someone had stepped up and created this plugin YEARS ago to save me hundreds and hundreds of dollars (and untold hours of time). It's amazing, we're excited to start testing and tweaking!"
Adam Baker, Man Vs Debt
"OptinSkin is the solution to converting your visitors into email subscribers. Not only that, but it's also super effective at getting your visitors to share your content on social media sites which (as you know) means that your content has a bigger chance of going viral. The back-end is also super easy to use. I recommend it to everyone using WordPress."
Dirk Bruin, Upgrade Reality
Pricing
As I've told you all earlier, it is a premium plugin, and is thus, tagged upon with a $$. This package steals an amount of $67.00 from you but I seriously don't think you would like to miss out such a plugin and one thing I can guarantee….this 2-figure one time investment is going to turn over your online business into a 4-figure or 5-figure one, and that is what I've seen in the history. For that, take up the case of Pat Flynn or Darren Rowse.
And other than that, just think how much time is required to code a take action form, and that too whatever we imagine. With this plugin, you can add attractive opt-in boxes (aff) to different locations of your websites within seconds and customize them according to your will and wish. So don't think over much to it and quickly place your order for Optin Skin single user package ($67.00) or the multi-licensed package ($97.00).