Tough time never lasts for long, one day it ends and the day it ends, it's the time for ultimate awesomeness!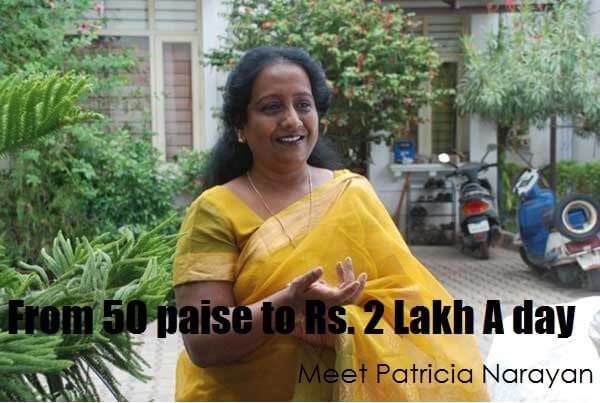 I don't know how many of you believe in it, but I do! Today, I'm sharing the story of one of those inspiring personalities who've pursued to ultimate success keeping this principal in mind! Today, I share with you the story of a woman, who started from 50 paise to Rs. 2,00,000 a day! Today, I feature Mrs. Patricia Narayan!
Starting from merely 50 paisa per day, Mrs. Patricia Narayan now earns INR 2 lakh a day. She started her career 31 years ago as an entrepreneur, selling eateries from a mobile cart on the Marina beach a midst all odds. Today, she has overcome the hurdles and owns a chain of restaurants.
She married against the will of her parents. Unfortunately, the marriage failed but her parents never forgave her and she was on her own along with 2 children.
"I knew I should either succumb to the burden or fight; I decided to fight my lonely battle." she said. She started selling pickles, squashes and jams she made at home.
However, the turning point in her life came when she started her own cart on Marine Drive, Mumbai in the year 1980. This gave her identity and exposure. According to her, the Marina beach was her business school, her MBA. On the first she just sold one cup of coffee, making 50 paise the first day. But she never lost hope and earned as high as 2500 rs a day.
One day the Slum Clearance Board gave her an offer to run the canteen at their office with a proper kitchen. The chairman met her during morning walk. Thereafter, she never looked back.
In 2004, life again took an ugly turn when she lost her daughter in a car accident along with her son-in-law. This was a huge setback for her. The ambulance refused to carry their dead bodies. Finally, somebody carried all the dead bodies in the boot of a car. She couldn't bear the scene and broke down.
That is when she decided to keep an ambulance on that very spot to help people whether the victims are alive or dead.
Pain is an inevitable part of life and it must not stop us from moving forward as 'moving is life' and 'still is dead'. Her journey was briefly halted by her daughter's death but it did not take permanently pause. A couple of years later, she set up 'Sandeepha' restaurant along with her son in memory of her daughter.
Her dedication and hardwork helped Sandeepha attain great heights in the hospitality sector. Today, Sandeepha boasts of channelising sales through 14 outlets across Chennai, earning INR 2 lakh on an average daily basis. She was awarded 'FICCI Entrepreneur Of The Year' in 2010.
Note: I would like to that The Logical Indian for paying tribute to such inspiring entrepreneurs and would like to give content's courtesy to the aforementioned!