Rakesh Jhunjhunwala is a very renowned investor, often popularly known as the Warren Buffet of India. But it wasn't an easy run for Mr. Jhunjhunwala, he had to face numerous difficulties in this path that eventually took him to success. Let's check out Rakesh's amazing success story from Rs. 5000 to nearly 800 Crore INR. Let'a start from the peak beginning!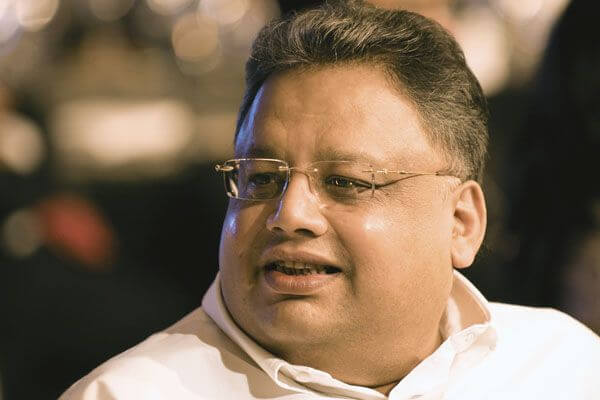 Rakesh was born on 5th July 1960, 55 years old right now, and was the son of an Income Tax Officer. He lived in Mumbai and him father was keenly interested in Stock Market and shares often about which he use to hear from his father. He learnt about price fluctuation from T.V., which was eventually the first lesson he learnt in the business.
As time went on, Rakesh learnt new things everyday. Rakesh's father told him that he can do whatever he wants to but should, at least, get proper education complete. He graduated from Sydenham College and thereafter enroled at the Institute of Chartered Accountants of India.
He completed his CA education and told his father that he wants to indulge in fields of stock marketing. The first thing he was told was to earn and trade from his own money, and not borrowing from anyone else. He started his career in 1985 and his sheer determination helped him succeed quite fast. His first huge trading profit was when he sold 5000 shares of Tata Tea for Rs 143, which he bought at Rs 43, bucking a profit of nearly O.5 Million rupees.
Between 1986 and 1989 he earned Rs 20–2.5 million. His first major successful bet was iron mining company Sesa Goa(now Sesa Sterlite). He bought 400,000 shares of Sesa Goa in forward trading, worth Rs 10 million and sold about 2-250,000 shares at Rs 60–65 and another 100,000 at Rs 150–175. The price rose to Rs 2200 and he sold some shares.
Back in 2002, Jhunjhunwala played a big game! He bought 6 crore shares of Titan at a price of about Rs. 3 each. The stock currently is Rs 390 which makes him nearly s 35 lakh per hour! And jus like that, he marketed the stocks and is today one of the most successful businessmen across India.
Jhunjhunwala is the chairman of Aptech Limited and Hungama Digital Media and is also amongst the board of directors of many companies. It wasn't as if Jhunjhunwala was always successful in this purchases. His stock fell up to 30% in 2011 which caused him a great loss. However, he recovered the losses quite soon and these failures didn't made him feel like quitting. In May 2012 he increased his stake in Aptech by 2.24% now holds 12.7%.
Just like other businessmen, Rakesh too has got quite a busy schedule. He wakes up at 7:30 in the morning, gets ready for work by 9 and he keeps a watch over the market rates through television. He reaches his office by 11:30 as he talks with his employees, watches the trading screen and other works. He reaches home by 8, spends some time with his family and hits the bed by 10.
It has been nearly four weeks since I'm following Rakesh Jhunjhunwala, reading articles about him and learning the ways of succeeding from him. There's also a blog, the secret journal of Rakesh Jhunjhunwala that parodies the investor's life.