Many bloggers say, AdSense is the door which once unlocked can take you to ultimate success. Speaking in simple language, once you become an AdSense player, the doors of Ultimate income are opened for you! On the other hand, many "PROs" experiences and thinkings say that AdSense isn't the perfect way to earn online and that Sponsorships and Affiliate Marketing works quite better than it.
Well, the PROs say, and the one who get's stuck up in a dilemma is we, THE NEWBIES. And literally, the situation becomes like, 'Oh GOD! What to do???? Whom to listen?' Well, my post today is exclusively for those who are stuck in a similar confusion and I need not repeat the title again!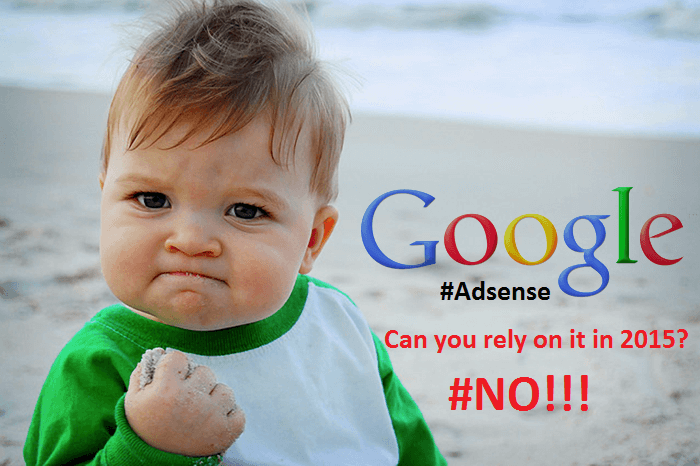 AdSense as your only source of income?
AdSense is, undoubtedly one of the grandest gold mines in blogging which has reserves for millions. But 99 percent of the bloggers completely depend upon AdSense, in a hope that one day they'll too achieve those milestones the Probloggers are experiencing. I'm not saying that dreaming for success is wrong, but depending upon only one source of income is. Also, I am not against AdSense. Even my mom is able to earn a handsome amount of income every month from AdSense, but there isn't only one door to earn in this world.
Read out why Krishna Moorthy thinks AdSense is very important for bloggers
What I wanna say is, other than AdSense, I want you guys try some others sources too, such as Affiliate Marketing, Sponsored Posts and most importantly, work for clients for freelancing projects. There are hundreds of bloggers out there, who've started blogging with an aim to earn, which is, again, a wrong impression and passion.
Talking about 2015, PUFF! The competition has increased like anything! As per the recent studies, there are 152,000,000 blogs and the number is increasing day-by-day. Suppose that out of these 152,000k blogs 100,000k blogs monetize it with AdSense and say out of these 100,000k blogs, 20,000k bloggers are blogging in your niche??? Can you understand the point of competition I want to say here and it is 2015, blogs have grown up, they've become better, and they have grown smarter. I'm repeating again, I'm not asking you to loose our hope to monetize and earn with AdSense, it's awesome to earn with it, but if after so many successful attempts and devoting your whole time towards it, if still you are unsuccessful, keep it part-time and try to get your hands over the other sources.
Let's take an example of two of the most prominent bloggers in the Indian blogosphere; Harsh Agarwal and Imran Uddin. Harsh's major source of income is Affiliate Marketing. The fact that he didn't find AdSense as the suitable source to earn for him, so he opted Affiliate Marketing, and today that man is touching ultimate success!
Talking about the other guys, Imran Uddin, the EVENT KING of Indian blogging, as far as I consider him. He firstly decided to go with AdSense, he worked hard, he made a team, he applied his senses and finally, he's succeeded in pursuing his aim. So if you aren't successful with AdSense after working in it for it, keep it aside and focus on the rest…
And if AdSense is filling up your pocket well, it's great, continue with it!
Do share what you think of my views in comment box below!