Inspiration can never end. Everyday I come across numerous people who decided to go their own way, follow the thing which they are passionate about and succeed in life. Today, I'm interviewing one of those guys, the one amongst those who motivated me to write, write and write.
If you guys don't know, Amit is the author of 5 popular novels, out of which "Love is Vodka – A Shot Ain't Enough!" Learnt a hell lot of things in this inspiration chat, and I hope you'll too!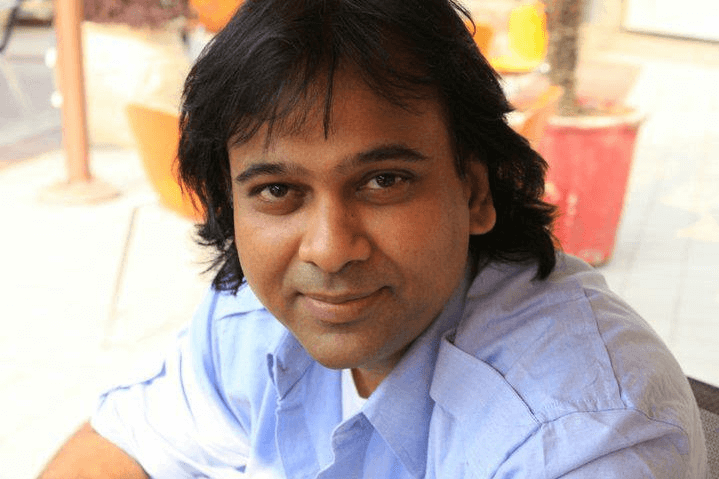 Q.1 Hello Amit sir, and welcome to the Sense Bin chit-chat sector. Though you are a popular writer, there are still many who don't know you well. So, what about a short introduction…
Amit: Classes know me well, masses, I don't care about. And I'm saying this without being offensive. As a writer I want to reach out to sense and sensibility and not be treated like a game of angry bird played during a metro ride. Having said that and coming back to your question, there is nothing much to know about me. Was into advertising for long—with global agencies, working on global brands and winning global awards. A musician by hobby, writer by choice. In general, a loner, drifter and nothing much and yes, a coffee addict. Don't drink, don't lie, don't cheat, don't party… so as you can see quite a boring person.
Q.2 I know it really well what the art of writing is, why, in midst of so many jobs and career options, you opted writing.
Amit: I was a copywriter. So writing came naturally or maybe as writing came naturally therefore I was a copywriter. Advertising taught me how to write well. One day, while working for this Canadian multi national, I had this urge of writing novel. It was so strong that I felt it to be my calling. A calling not to earn money and fame but to express my self and touch lives and hearts of people. I quit everything and started writing. My first title, Flight of the Hilsa went on to touch the lives of many readers. It helped them think better, decide better, take actions which were pending for long. And I knew that writing was what I wanted to do. 4 titles later, I'm not regretting it. We all have a calling, if we can find it and answer it, life becomes a beautiful journey
Q.3 How did you get started, what were your struggles in overcoming the odds of the society and writing your own stories.
Amit: Never been much bothered about the society. For all I care they could go and fly a kite. We are limited by our own limitations but choose to blame parents, siblings, friends, society, country, even the world, the universe and out dog. Writing is a lonely process. It has no friends or foes. It is just you and your world. You can't share as it is too personal. But once you start liking yourself and the journey it becomes so much fun, you turn into a creator, molding lives of your characters. You feel like God.
Q.4 Job of one's own, like Entrepreneurship and writing have always fascinated me. I'd love to know the way this profession has evolved your life!
Amit: It gives me the flexibility to do things I love to. 1. Not meet anyone 2. To stay away from morons who strutted around me wearing suits and tie 3. To create something more substantial than buying an audi or a penthouse, creating a body of work that would last even after I'm gone. 4. Of course I love playing the God.
Q.5 What is your daily schedule?
Amit: Strong dislike for any kind of schedule made me choose writing.
Q.6 Other than great grammar knowledge, what do you think a newbie writer require the most to impress the audience with it's words!
Amit: I remember one day during my advertising career I wrote copy for a brochure. My boss said that it read a little damp and asked me to warm it up. I was confused. I mean how could copy read damp, wet, crisp or happy. It took me a while, but thankfully I did learn the art and its nuances. Writing is a craft, which one has to work on. Sadly, people who opt for it, have misplaced motives; to earn money , name , fame and fortune. Writer has to get the art of story telling, the craft right. And please don't write a bad piece and say 'even that best selling author writes the same way' Best selling author is a façade, don't get fooled by it. Read Salman Rishdie, VS Naipaul, Hemmingway, Shakespeare, Emily Bronte. Their sheer craft would over whelm you. Try writing like them, maybe you would reach somewhere.
Q.7 It's always great to receive motivation from a person like you. What's the saying or quote you've been following all your life?
Amit: "The world is full of Kings and Queens
Who blind your eyes and steal your dreams
It is heaven and hell" Black Sabbath