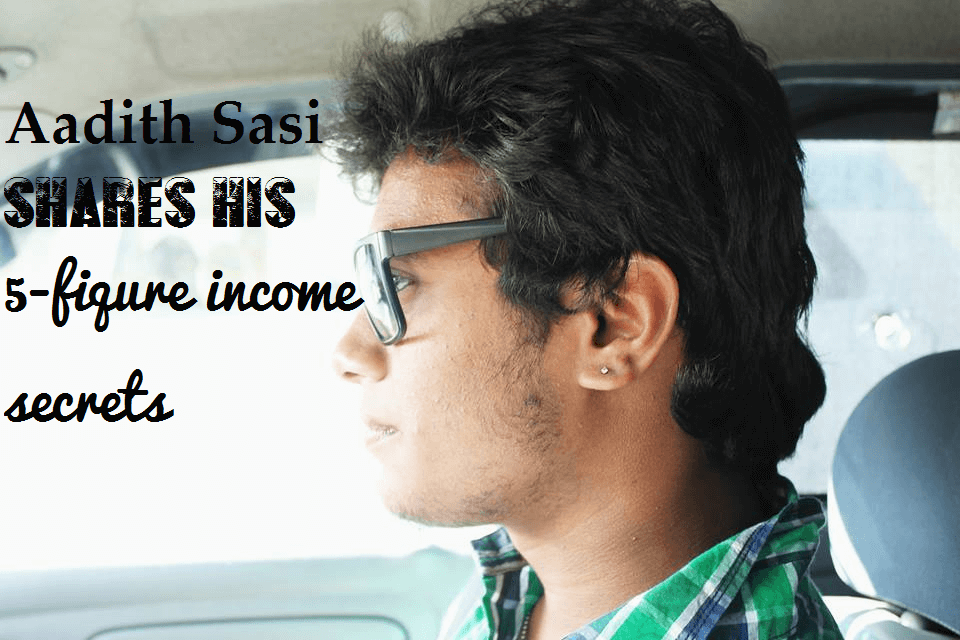 Earning 4 or 5 figures a month online has been the mission those determined internet marketers have been looking to accomplish. But only a few have been able to capture that goal, amongst them is Aadith Sasi, one of the biggest Website flippers from Asia.
Surely this wasn't an easy game for Aadith Sasi, but his determination and hard work truly brought him success. So have a seat, get a clear mind to start learning some exceptional and money-making website flipping techniques!
An interview with Aadith Sasi
Q.1 Firstly tell us about yourself
Hi,I am Aadith Sasi Currently doing engineering (1st year) from Gurgaon Institute of Technology & Management,Bilaspur.Passed out 12th From D.P.S Maruti kunj.A student by force and an Entrepreneur by passion.Started my blogging Journey 4 years back.Currently own a firm "Xpacmedia" where we are providing all time of IM Services and moreover the first in India to provide to Flipping services.
Q.2Why did you start your career?
As all of in our teenage life need extra money to be a bit of lavish and moreover wanted to stand on my legs that was the reason I started blogging.
Q.3 Who gave this unique idea of website flipping to you?
The first guy I saw on flippa selling a site from Indian Blogosphere was Vikas Bhat.He was my inspiration from where I started making sites and flipping them.
Q.4 How do you sell your websites at such high price?
Would you be paying me more money for a thing which is not worth what you pay?Obviously no one would.So I wont say I am selling sites at high prices.Moreover you can say I evaluate sites properly.
Q.5 How much do you earn monthly?
It varies from 4 Figures to 5 Figures(Keep guessing whether it's USD or INR)
Q.6 What is the best strategy to sell at a high price and few tips for the newbie website flippers.?
Never make a site for the sole purpose of flipping that is the best thing which will always help you grow the site and get the best price out of it.Few points:
1.Never end auctions on Weekends and odd timings(Most buyers are from UK and USA)
2.Add every possible Details
3.Have a steady Traffic and Revenue graph
4.Help the new buyer set up the site and provide 30 days support.
5.If you want to get the best price for your site.Contact:http://xpacmedia.com .I can assure you that you will get the site sold very professionally will be completely hassle free .
6.If you have any other questions related to flipping.Contact me @ aadithtechnama@gmail.com.