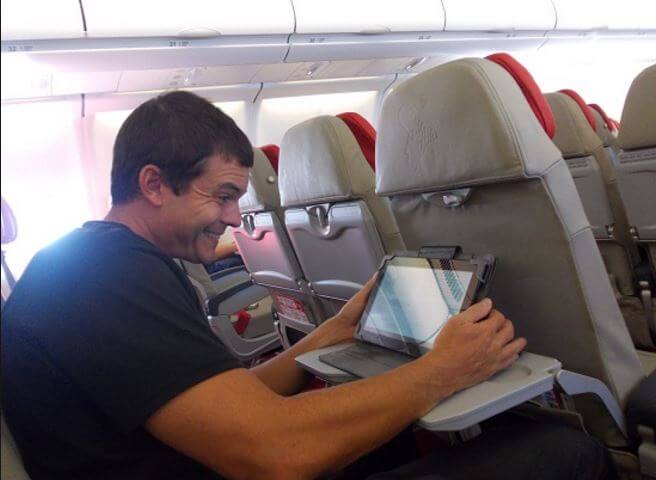 Travelling is one of the things I can do anytime, whenever I feel like, apart from reading or eating! 😛 But I never dreamt that in the industry I'm working, there are hundreds of bloggers that are successfully making money online and travelling the world, making their lives beautiful out of it.
Now, I certainly don't need to make money out of online (though I make a bit 😀 ) there are some have left their jobs, sitting in front of their PC screens, trying to conquer the myth of earning money sitting at home, but they are continuously failing.
Today, I'll help you learn from another master who've got specialised techniques with which he's making passive income online and travelling the world. The one who've revolutionized the "laptop lifestyle" in my opinion. Please welcome, Ryan Biddulph from Blogging From Paradise!
Interview with Ryan Biddulph
Q.1 Hey Ryan, first of all welcome to the SBIS. How does it feel to enter another interview?
I feel so grateful to do this interview Divynash, sounds fun to me! Thanks for having me.
Q.2 Would you please tell us about your life, background and current life?
My name is Ryan Biddulph. I am a 40 year old, former security guard, and current island hopping pro blogger. I have circled the globe for the past 54 months as a world traveling blogger, helping folks retire to a life of island hopping through smart blogging as I have.
Q.3 Blogging from Paradise is one of the blogs that I open, almost on daily purposes. You earlier had a similar blog like that, right? Tell us about your journey with BWP.
Actually it was a similar look for sure but the niche was different. My old blog was focused on making money online but I had about the exact same design. Different domain name, and way different niche because I focus on sharing smart blogging tips now. I founded/created BFP after trashing 3400 blog posts from my old blog. Yikes that was scary! But releasing precedes doing what you REALLY want to do, so I trashed those suckers and here I am today, doing what I love doing and for the fun of it.
Q.4 How did you get to know about this magical world of blogging and online marketing?
I got fired LOL. I was axed from my security guard job. My wife Kelli told me about making money online. I did some research. I discovered blogging and online marketing 8 years ago, dove in, and here I am today.
Q.5 What aim and plan did you have in mind when you started off working online?
For starters, my aim sucked. I just wanted to make money. And you can't serve others and have fun if you devote all of your energy to pulling in money. So over the years I blogged to free me and to free my audience, and now I blog just to have fun because when I'm having fun I do my best work and I am also super detached from outcomes when I'm just having fun.
Q.6 What were you actually doing before starting your online business?
I was a security guard at a shipping terminal in New Jersey, breaking up fights between Egyptian security guards, and watching truckers zoom by my gate all day long. It was a different life. Putting it mildly.
Q.7 Your series of E-Book is truly inspiring, I think you've written about 120 books. How did you get such a unique idea?
123 now 🙂 I saw my friend James McAllister had published like 100 eBooks. I figured, why not go for it, and here I am. I initially got the idea to write my first eBook when I created Blogging from Paradise. I figured it'd be smart blogging and branding to churn out an eBook to go with the blog. 122 eBooks later, I still have my fingers thank God, and here I am.
Q.8 Travelling is, no doubt one of your biggest passions. I'd love to know how it evolved your online lifestyle.
I built my BFP blog and brand around traveling because I've been on the road for the past 4 years plus….it made sense. I knew awesome guys like Darren Rowse and Zac Johnson were blogging tips gurus, so I wanted to share blogging tips but from my unique experience. I figured, it would make sense to work my travels and crazy stories and travel selfies into my blog, to show my readers how they could live the dream too.
Q.9 What is the schedule of your amazing laptop lifestyle?
I work when I feel like I'm having fun, and stop working when things get tough. Everything for me happens so easily when I'm enjoying the ride, and everything gets harder and harder when I force things and work hard. Hard work brings you more hard work, and since we're not oxen, but humans, it makes sense to work light, to have fun, and to let our playful, creative ideas create our dreams for us. So I generally work/play from Monday to Friday, take Saturday off, then work/play light on Sunday, but I've been known to work as little as 2-3 hours a day to preserve my playful, creative, colorful energies.
Q.10 What has been the best moment in your online journey till date?
No one sticks out, but buying my domain and hosting 8 years ago has to be my best moment. I was lost and had no clue in hell what I was doing, but I decided to be free. And here I am. All because i spent that money to buy my online real estate.
Q.11 What do you actually do when you feel demotivated?
Go to sleep. Take the day off. Or take 2 days off. Or more. Feeling unmotivated is a sign that you lost your way. Rather than running around in circles – like I did for 5 years online – I let go, trust, recharge, and relax….THEN I return to work.
Q.12 The biggest confusion that surrounds me whenever I visit your blog is how do you actually make money online. Would love to know your money-making methods!
By creating really, really, really helpful, practical, targeted content. The money flows through the value. Most bloggers don't make any money online because they fall in love with income streams, and pay little attention to creating fun, helpful, thorough content. Bill Gates is worth $50 billion dollars because he created $50 billion dollars worth of value. I create value through my blog, then….drumroll….I monetize through these streams: Blogging Courses, eBooks, audio books, paperbacks, blog coaching, freelance writing, sponsored posts, affiliate marketing.
Q.13 Your videos are too, a hell lot motivating. How did you start with vlogging?
Hey, thanks dude! I love the camera. It is fun for me, so I figured it would be smart to create 1080 HD videos in paradise.
Q.14 If I'd ask you the quote you feel is the most motivating, what it would be?
Relax and let it all in.
Just breathe deeply and just BE. All my best ideas, well, Ryan Biddulph didn't create them. The Universe or God brought them to me, when I was chilled out, and trusting, and I'm just borrowing them for a while.
Q.15 Any last-minute tips for our readers!
Enjoy the ride! Blog for fun and you'll become more free than most people you meet. Having fun is a secret to freedom.