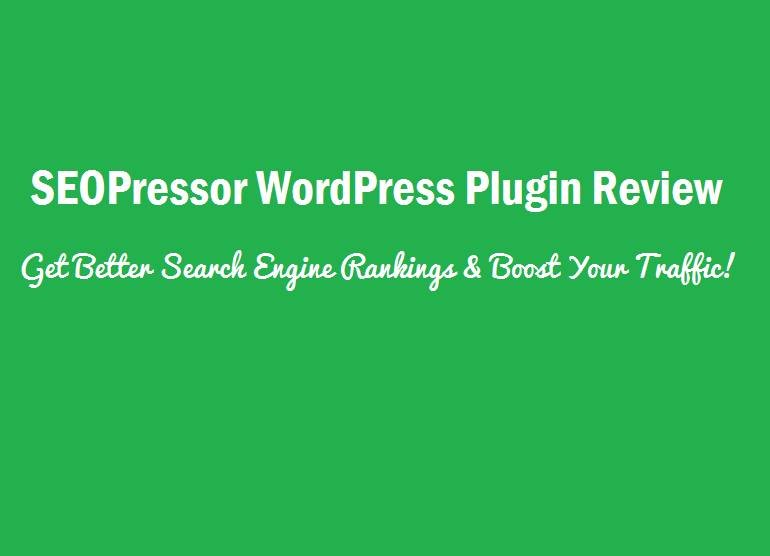 If you are in the blogging world for around a year then I hope you know or have heard about the world's best SEO (Search Engine Optimization) plugin, SEOPressor. It comes in the list of the best premium SEO plugins in the blogosphere. Many of the professional bloggers such as Ileane Smith are the plugin's avid user and the secret of such bloggers' success lies beneath this plugin only. The main work of this plugin, is as usual, to get good search engine ranks.
The awesome SEOPressor plugin was released in June, 2010 by Daniel Tan and since 2010, thousands of bloggers have been addicted to it. After every 2-3 months, the expert technician team of SEOPressor launches its new versions with worth features.
How does SEOPressor works and what are its functions?
If you or your friend uses SEOPressor then I think that you know its basic feature but all those bloggers, who are unaware of it, I am presenting the awesome and trustworthy features of SEOPressor.
This plugin is unlike the normal and basic SEO plugins in which the work gets finished by setting up the title and description. Firstly, it asks you to set up your 3 focus keywords (minimum 3). The keywords can be settled in the SEOPressor widget in the post editor section. You can set the keywords in between when you are writing your article, before you start writing your article or at the end of the article.
The ordinary SEO score with an ordinary SEO tools is going to be just 40 but with SEOPressor, it is going to be even more than 80, making it a good search engine optimized post. Now, the questions which will raise in your mind is that how will it help to get a good SEO score and here only, SEOPressor plays the major role. With this plugin, you can add some specific tweaks within your post, must for a good SEO score. While using SEOPressor, you'll feel that you are sitting beside an SEO superman, guiding you how to write a perfect post.
It suggests you things such as making you keywords blog or italic, adding keywords in H1, H2 or H3 and much more. If he thinks that the things are all set, then he marks with green, or red.
Complements given to SEOPressor by its popular users
Andrew Spence from AndrewSpenceOnline.com
SEOPressor is always receiving regular updates as things change in SEO land, so it is always relevant.

They have a 14 day trial period to show that installing it can double your daily traffic. You don't need to give credit card details so it's a great product to try.
Reginald Chan from ReginaldChan.net
Probably one of the best tools for content writers . SEOPressor is a great tool which helps to enrich the quality of the article & increase website ranking.

The one time payment for a lifetime license is a great deal not to be missed!
Warns when Over Optimization of SEO is done
The film does not end here. The thing which I liked the most starts now! If you SEO score is 80-100, its well-and-good. But if you enter you focus keyword extraordinary times? It just becomes hell. If this happens with the default WP SEO plugin, the SEO color becomes dark red, which feels very bad. If the score will be over 100, your post will be over-optimized. I hope you know that optimizing a post is a very adverse fact and bad for Search Engines. In this case, this plugin advises you how to equalize it.
More Features of SEOPressor
Rich Snippets: SEOPressor allows you to enable rich snippets for your posts. Everyone knows how important rich snippets are today.
Social SEO: SEOPressor includes SEO for Facebook, OpenGraph tags and also Twitter SEO.
Allows you to keep the keywords as META tags and publish the META title and description for each and every article.
SEOPressor have some automatic

settings

such as settings for internal and external links, image links, Social SEO, post slug, keywords and more. These settings can be managed once and then, no need to worry about SEO during you article writing process.
What are its positive results?
Guys, does it look nice to end a review without the final showdown, I mean the results. I am still completely testing its benefits so I will present nothing briefly but will present a pic, showing some traffic changes on my blog.
Plans and Pricing
The single license of SEOPressor costs only $47 dollars and a multi-licensed version worth $97. I hope that a plugin coming with such fantastic features and worth only $47 and $97 is a very profitable deal. Hope you'll try this plugin.
– See more at: http://www.findwebapp.com/seopressor-review/#sthash.0iofvoKg.dpuf