Now don't disagree that you aren't here for money. All of us here are for this only, and we ought to make money! And all of us have different ways and means of making money online. It can be Google Adsense. It can be affiliate marketing, or some other.
But have you ever realized that making money online is possible even with a click-through? Did you imagine that a short URL can generate you bucks? Yes, it's possible. And today, we have so many URL shortener programs that can help you make easy money online, and amongst them is Shorte.st.
Short.est is the most widely known money-making URL shortening program that is help internet marketers make easy money online. But just like all those traditional methods, this one too requires:
A well developed website
, and good traffic
Shorte.st Review
Shorte.st is an advertising network that functions on the distribution of links on it's medium. It is a Europe-based startup and if you are familiar to shorteners like Bit.ly and Goo.gl, I think that this one is much better that the others for this will not only help you increase your website visitors, but also generate a side-by-side income.
So now, the question is, how would you start off with it? It's really simple! Just visit Shorte.st and shorten your links. And you will be paid on every click-through to the shorten link you've generated. Now definitely the commissions you earn over every click-through is very low, but it's really damn easy as compared to other networks like AdSense.
Shorte.st Tools
Now this URL Shortener has got numerous tools that make working with it really great. So let's just talk about them now.
Website Monetization Tool
This is one of the most important tools of the Shorte.st tool. This tool gives you numerous filters and options and according to those filters, you'll be presented with a code.
Quick Links Tool
Now this is a tool that will make your experience with Shorte.st extremely easy. It is a very tiring job to everyday open up Shorte.st to shorten the desirable links, isn't it? But this tool solves the problem! Now, Shorte.st provides a specific counter link to each of it's users like:
http://sh.st/s/yourdestinationlink.com
Now replace 'yourdestinationlink.com' to the desired link. For e.g. sensebin.com
Now, it's http://sh.st/s/sensebin.com
Mass Shrinker Tool
Now this was a tool I never realized any URL shortener would ever have. What if you want to shorten numerous URLs at the same time? You won't get this option in any other URL shortener, but with Shorte.st Mass Shrinker tool, you can shrink numerous URLs at the same time! Just click on the Mass Shrinker tool from the dropdown in the Tools options, type the URLs you want to shrink and shorten them like this!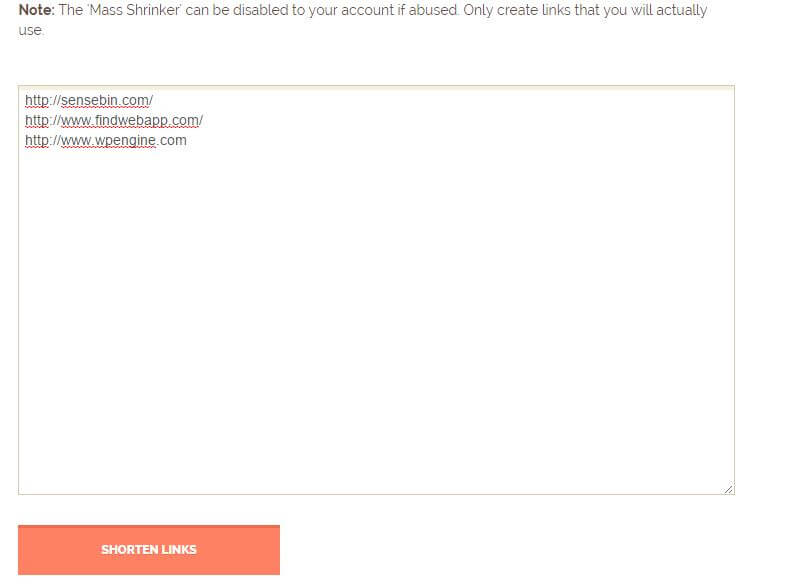 And this is what happens next: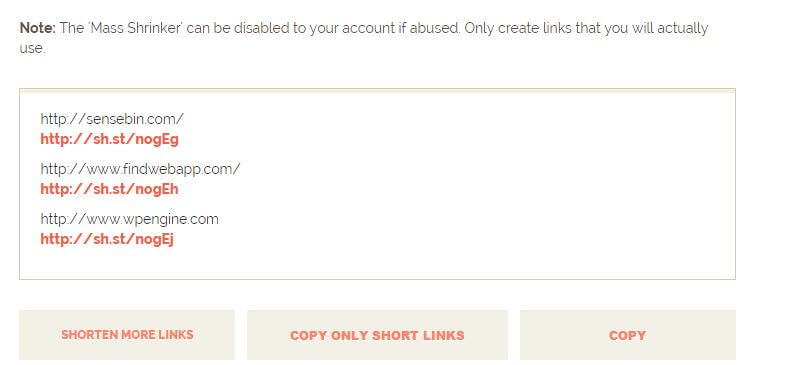 Social Share Widget
Now you can also earn money from Shorte.st if you have viral content that your audience avidly love. Well, the Social Share Widget by Shorte.st can definitely help you earn some extra bucks. All you have to do is apply the social share widget on your blog and whenever your content is shared, it will be automatically shared with a shortened link that will add up to your profit at Shore.st.
Shorte.st Payout Rates
The payout rate per click-through on a shortened link varies in different countries, but well, is offering the highest as compared to it's competitors.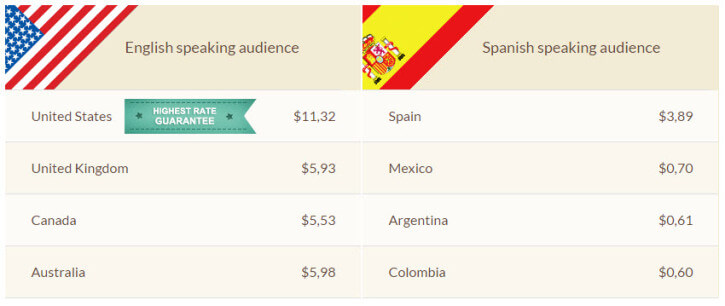 Shorte.st Referral Program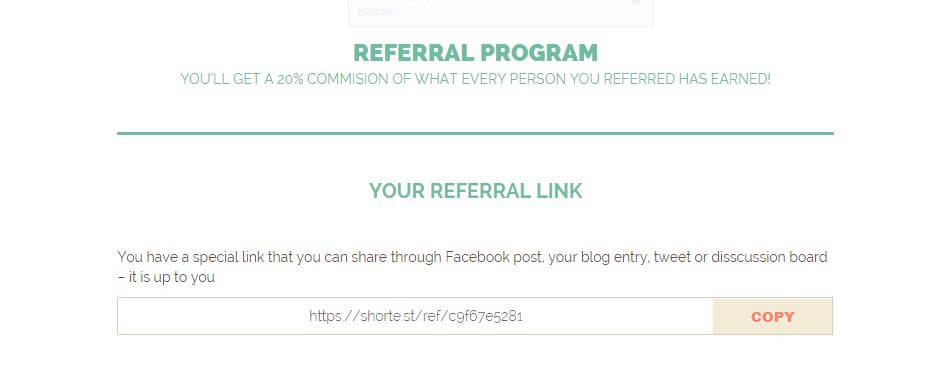 Now apart from just shortening your blog links and earning money, Shorte.st also offers a fabulous referral program. In this referral program, it doesn't require any kind of approval. All you have to do is visit this page, sign up, and become a marketer at Shorte.st.
As soon as you sign up to Shorte.st's referral program, you will get your referral link through which you can promote it and you will get paid for every referral sign up you make or every link that is shortened through your referral link. A sample of my referral ID is
https://shorte.st/ref/c9f67e5281
and, I have converted it into my own custom link, which is
https://sensebin.com/Shorte.st (I did it through the Pretty Link Plugin)
Join Shorte.st referral program here
So…what are your views about it? Is it really the easiest way of earning online? Do let us know about it in the comment section below but till then, stay tuned to our blog for more of awesomeness!