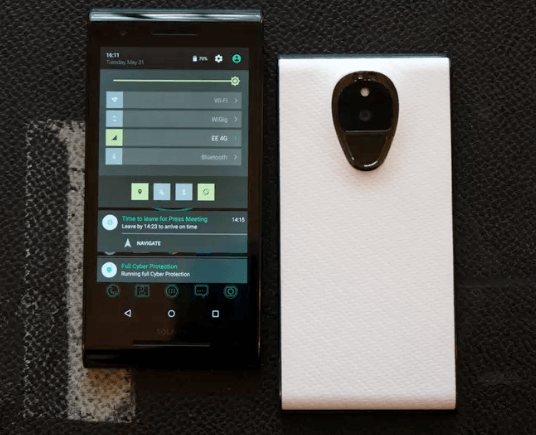 Definitely you'd always love your phone's privacy. Come on, all of us do, after all we've spent huge amounts of bucks for this rectangular structure and want it to remain safe. But how much do you value it? Amm, $16,000?!
Well Sirin Labs recently developed a smartphone, a cool smartphone, which is said to be, THE MOST SECURE SMARTPHONE IN THE WORLD! For about Rs. 10 lakh, you'll be getting a smartphone with all the latest specifications.
Talking about the device, CEO and Co-founder of Sirin labs, Tal Cohen said,
"Cyber-attacks are endemic across the globe. This trend is on the increase. Just one attack can severely harm reputations and finances. SOLARIN is pioneering new, uncompromising privacy measures to provide customers with greater confidence and the reassurance necessary to handle business-critical information."
So in the Solarin smartphone you get a 5.5-inch display with 2560 x 1440 pixels of smartphone with Snapdragon 810 processor under the shed, coupled with 4GB RAM and 128GB internal storage, that's massive. Also, you have a 24MP camera with Optical Image Stabilization and LED Flash with an 8MP front snapper. OKAY!
Inside, you have a 4040mAh battery which is again huge but what actually makes the Solarin smartphone stand out of the crowd? It comes with built-in mobile security protection by Zimperium. Sirin Labs partnered with KoolSpan to make 256-bit encryption for protecting the voice calls and messages; this is the same technology used by the military army. All the communications can be encrypted by activating the Security Switch on the back.
Now that, that, sounds really cool! BUT, $16,000 that's a huge amount, and you seriously gotta save money for months to get this one. Overall it's an amazing device, the specs portion it's just too good, and the phone is totalllly safe inside, but that price tag is huge.
Source: PhoneRadar