Hey fellas, wassup! It has again grown up to be damn cold! Atmosphere filled up with fog and dust when I bring upon a kickass interview to you all! Today, I've successfully interviewed a girl who's loved all over India. Obviously, you've read in the headline, Today I am in a conversation with the 'Anu Aunty' i.e. Sumukhi Suresh. Haven't heard the name before??? Know more about this damn jolly girl now!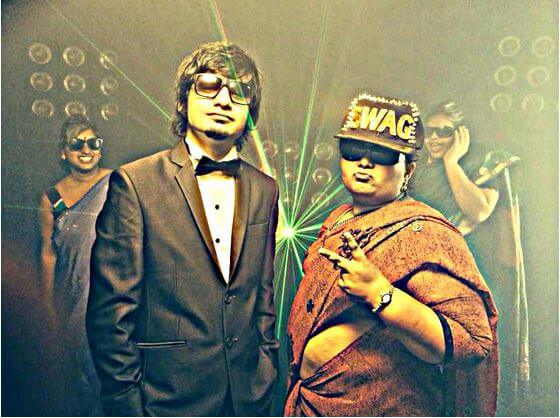 Que. 1: Hello Sumukhi and congratulation on the massive success of your latest "Log Kya Kahenge" anthem. You, Varun and the simply nailed it! Since everyone knows you as "The Anu Aunty", could your please Introduce the 'Sumukhi' in yourself?
Sumukhi: I don't know if 'The Anu Aunty' sounds better or the 'The Hulk'! Although I must say I could give Hulk a serious run for his money! 😛 I am a comedian base out of Bangalore. I do Improv comedy and Sketch Comedy! I have my own sketch show called the Adventures of Richa Sumukhi with the lovely Richa Kapoor and I am part of the ensemble of 'The Improv' by Centrestage.
Que. 2: Where are you from and how did you enter this profession, or I may say passion with Varun that was loved so much by everyone?
Sumukhi: I am confused half Tamilian half Malayali who was raised in Nagpur and knows her Hindi abuses better than anything else! I studied in Chennai and that's where I started theatre acting. Bangalore and the show 'The Improv' introduced me to comedy! I had a very 'American Movie' kind of a childhood where I was made fun off! Those insecurities have now translated to comedy J
Que. 3: What are you doing nowadays, like a job or what, and what you use to do before all this?
Sumukhi: Oh yes I have a job! I work for a food and water safety laboratory. Before this I used to be a Chef with ITC. I was a librarian for a children's library, a story teller for the kids at the library. Psst Psst I also bake cheesecakes and cheesecupcakes for a niche set of cake lovers!
Que. 4: Was it a difficult task for you to change yourself from Sumukhi to Anu Aunty? Kindly share your experiences!
Sumukhi: It was daunting! My hair had white paint for days! 😛 Honestly, it wasn't difficult! Because Varun, Sanjay Manaktala and Sam Mohan were so easy going and gave me space to build my own take on the character. Of course I did read the book before shooting but they let me give my quirks and touch while recording the song and shooting the video.
Que. 5: As per my little information, you're soon starting upon your own show namely "Adventures of Richa Sumukhi". Though it is obvious it is going to be a comedy adventure, please describe it?
Sumukhi: Oh we are already 3 shows old! In fact we are performing at the Pajama Festival organized by Vir Das in Mumbai end of this month!
Adventures of Richa Sumukhi started when my lovely partner in crime Richa Kapoor and I were chatting about the dearth of women in comedy and we were complaining about no one's coming forward. Well it didn't take Einstein to tell us that we should plunge in! The show has 6 comedy sketches touching upon various topics! One gets to laugh, be awed, experience discomfort, be scandalized and all that leads to fun! 😉
Que. 6: What was the best moment you guys had during the shoot for the video? The best one please!
Sumukhi: Ok before you finished the questions, I thought of three already! My favourite one was the 'Who That Who That MBBS'! I loved singing it, shooting it and also loved how the credits came with that too! I think Sanjay Manaktala struck gold with writing those lines!
Que. 7: What was your experience working with Varun Agarwal? Please Describe.
Sumukhi: Varun is a blast to work with! He has done well so well for himself and yet he will be the first one to laugh at a joke cracked on his expense! I like how he has faith in the people he chose or chooses, he knows what he wants, he is methodical and I really want to know where he gets all his energy from!
Que. 8: As per your VIRAL video, becoming a doctor or an engineer is a standard profession and everyone should do it, keeping their dreams aside. What do you want to say about it?
Sumukhi: First and foremost, there is nothing wrong in standard professions as long as that is ones wish and desire. My take-away from this video and the book is to brave it all and follow ones passions and dreams and be responsible for your own actions.
Thanks a ton "Anu Aunty" or I may say Sumukhi for joining us at Sense Bin and I hope you enjoyed answering our questions. I hope for your success in the future and that your Engineering anthem goes popular worldwide!
Thanks again for joining us here and readers….do let me know your views about this interview!