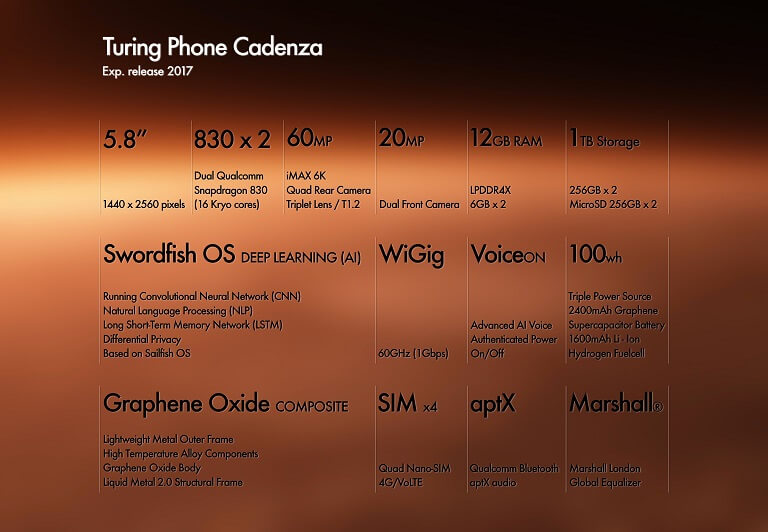 Now if you just read that title completely then get this, it ain't wrong, every bit of it is correct, such a smartphone is in the making!
Turning electronics, which was known to make the craziest device of 2015, is planning to make one, even crazier for the coming years. Talking about this phone by Turing, the Cadenza, it packs up something really very robust which you won't get over easily, and not only all that in the software, but packs the same, traditional premium outlooks which turning has mastered.
But, talking about the internals, phew! It packs a 5.8-inch 1080p display and packs a Dual Snapdragon 830 SoC, probably the only one to have in the world, even in the future, along with a 60MP rear triple lens sensor and a 20MP front facing camera. Turing probably thought that the days for 128GB and as a matter of fact, even 256GB are gone, and decided to put up a total of 1TB amount of storage in this one.
Also, alongside, you get 12GB RAM and comes with a 100 wh battery based on 2600 mAh Graphene Super-capacitor + 1600 mAh li-on+ Hydrogen Fuel Cell. The device is expected to launch next year i.e. 2017 and it's price..bleh!
Let us know what you think would be it's price in the comment section down below!