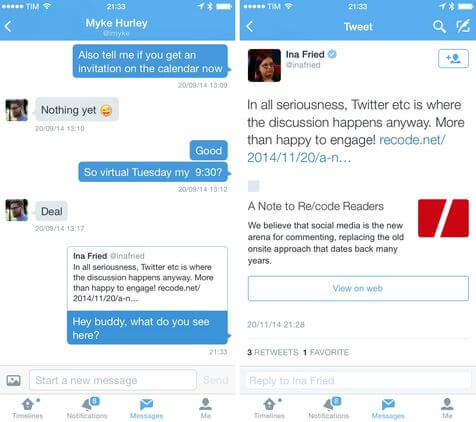 As per an official PDF report, Twitter CEO Dick Costolo will step down from his position on 1st July, handing over the duties to the Co-Founder Jack Dorsley as the temporary CEO while the company looks out for a better replacement.
Twitter has been having the weirdest history ever when it comes to jobs and replacement. Dorsley, who've been conducting investment rounds since his job in Twitter was replaced by Evan Williams in 2008 and three years later, he got his job back when Williams was ousted and now, will be succeeding Costolo as the CEO! Man!
"I am tremendously proud of the Twitter team and all that the team has accomplished together during my six years with the Company," Costolo said. "We have great leaders who work well together and a clear strategy that informs our objectives and priorities."
Twitter conversion into a messaging app
The one reason why Facebook was always preferred more over Twitter was that it never supported messaging features, probably a network created for celebs. But has Costolo is stepping down from his position, Twitter is making a huge leap integrating messaging features!
From now onwards, you simply don't have a 140-character limit to share your experiences, but that, the number has increased to….10,000!!!
"We've done a lot to improve Direct Messages over the past year and have much more exciting work on the horizon. One change coming in July that we want to make you aware of now (and first!) is the removal of the 140 character limit in Direct Messages," said Twitter in an announcement to developers.
Let's see if Twitter stands on it's promise. Let's wait and watch whether we're gonna get a new messaging app or not. But if it happens, Kudos in Advance to Twitter!