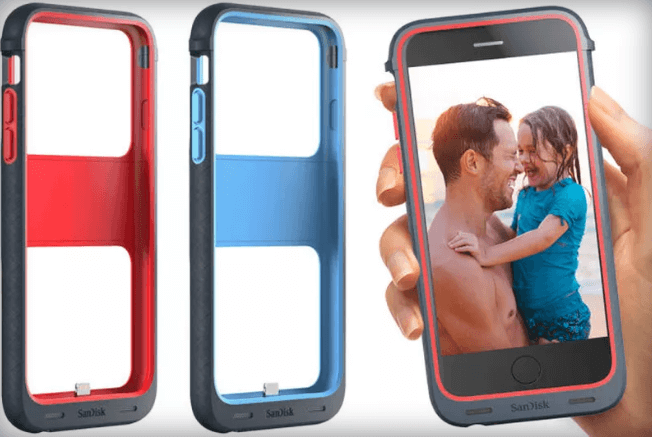 So, ahh, it's something still true that 16GB is enough for an average amount of users, no matter what the smartphone brand is. It's just guys like me who love stuffing up useless waste in their phones, thankfully I have a 128GB smartphone, but less-storage complaints aren't new at all. Well, SanDisk has got a solution to this problem.
SanDisk's new iXpand Memory iPhone case well, will give you some extra storage along with your onboard storage. An integrated flash storage and a lightning port is all that's going to be used, and then, YOU HAVE SOME EXTRA STORAGE!
Now just in case you too irritated iPhone's battery, as most of it's users are, you can get a 1900mAh battery case attachable to the case, that's just going to subtract $40 from your pocket. But the job doesn't end after attaching the case. You need to download a supportive app to this case which helps in backing up the 'already-there' data of your phone to the case.
Now that you've read it all and probably spent 2 mins, I'm going to tell you that probably is going to make most of the iPhone users reading this thing, close the tab. This case is…NOT compatible with iPhone 4, and neither with the 6S ORRRR 6S Plus, only with the 6 and 6 Plus, Dayum!
The 32GB, 64GB and 128GB variants on the iExpand cases are worth $59, $99 and $129. So head on to Amazon and grab them. (Now, let's get honest, none of you are gonna buy it!)
Story credits: The Verge