Now don't say that you won't like to get a backlink from Wikipedia.org!
Though I don't need to tell you, it is one of the oldest websites on the web containing brief information about almost everything you want. The site often links to useful web pages related to its' information and just imagine, one of your blog posts linked up into it, WOW! You just can't get a thing better than this for your blog.
However, there's no point waiting for your article to get indexed in the web's biggest encyclopaedia. A few days ago, I came across a 'COOL' way you can get as many backlinks from Wikipedia as you want, just with some relevant keywords for your blog and I won't wait much more to start on, so here you go!
How to get as many backlinks from Wikipedia as you want
It's a fact that the backlink you'll get from Wikipedia won't be a normal one, IT'S GOLD!
They are impressively authority and will redirect huge amount of traffic to your blog and the best part is, you won't stop getting traffic from it, because Wikipedia ranks better than any other website in this world. And along with this, your site pages will get linked into numerous others too because Wikipedia is being used worldwide as a source of information and reference.
Introducing to you, WikiGrabber
A few days ago, I came across this tool namely WikiGrabber (and this is something AWESOMEE!)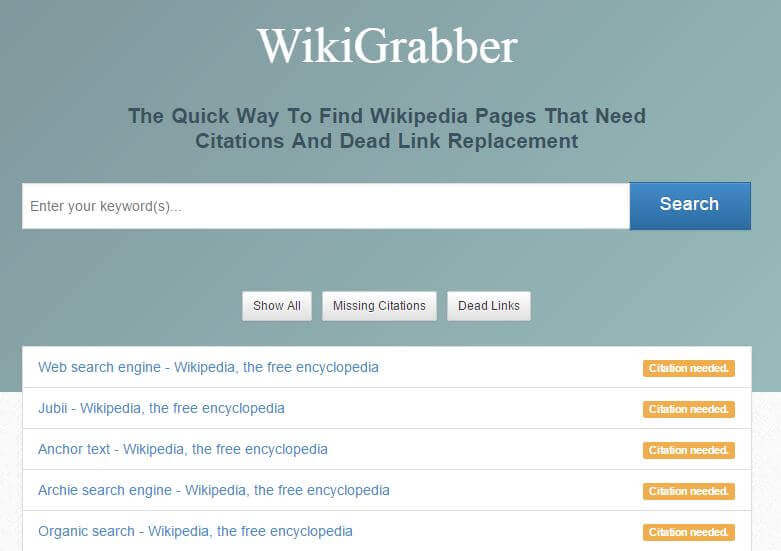 This tool is pretty easy to use. All you gotta do is get a list of highly profitable keywords for your site, type any one of them, and the site will come back with a list of relevant Wikipedia pages where you can link up your site.
How to make backlinks with WikiGrabber
As I told you earlier, all you have to do is put up your desirable keyword in the WikiGrabber search box (I'm using "search engine" here) and it'll soon revert back with a list of relevant Wikipedia pages to that keyword.
As told, I got a list of all the links and pages in Wikipedia related to the keyword I typed, but all these require citation and broken links fixing. By default, you'll get all the pages which require citation, but you can filter them accordingly using the buttons at the top.
After looking upon many of them, I realized that this page, containing every information about a blog, requires a citation and has a dead link.
In order to find where Citation is required or where there is a dead link, you can simply press ctrl+f, open up the search box and type "Citation Needed" or "Dead Link".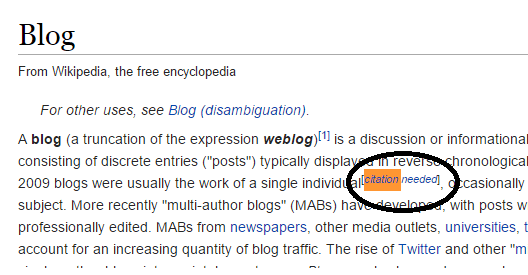 Now before you replace the dead link with one of your posts, there are some key points which you gotta keep in mind:
First of all when you submit the edit, it will need to pass human moderation so you have to take that into consideration.
Secondly, if you are replacing the dead link with a link containing poor quality content or if the content is nowhere related to the page, then your editings will not get approved. So, if you don't have relevant content on your website then there is no point wasting your time in building links.
Creating a Wikipedia account
For those who don't know, you can create your Wikipedia account anytime – YES, it's 100% free!
All you have to do is click on "Create Account" on the top right corner of your screen!
Editing a Wikipedia article
The easiest task in this whole process is it's bottomline; editing an article. You just have to select the section which you want to edit and click on the edit option, appearing just beside the section's heading.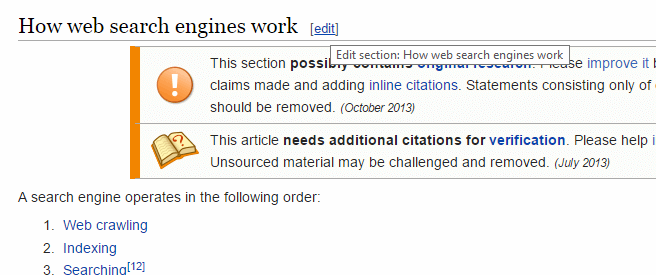 Following, you'll be taken to the Wikipedia editing sector where you will add up citations, fix the dead links and make up your backlink.

Once you have made the replacement, save the changes and wait by the time Wikipedia reviews your change. Make yourself calm, and if your content is of a great quality, congratulations, you've made your backlink on Wikipedia.org!
Wrapping it up
So here was my STEP-BY-STEP process where I taught you the coolest method to get numerous backlinks (as many as you want) from Wikipedia!!
Though I've explained it in a very brief and simple language, if you have any doubts, you can surely add them up through the comment box, I'd love to check them out! 😛
– #TheSensibleGuy!